Do you want to avoid losing potential customers whenever a product runs out of stock? If you answered YES, then you should have a "back in stock" notification system in place. With the help of WooCommerce back in stock plugins, you can easily notify your customers when a product becomes available again. This will help you retain loyal customers and increase trust in your store and brand.
But with so many back-in-stock plugins to choose from, it's challenging to find the right one for your store. But don't worry – we've carefully selected some of the best options on the market and we've included other essential plugin recommendations. Whether you're a beginner or an experienced WooCommerce store owner, our picks will help you take your store to the next level.
Why You Should Use a Back-in-Stock Plugin?
While back-in-stock plugins are simple, they are truly useful for WooCommerce stores. Practically, not using a back-in-stock plugin can make a WooCommerce store inefficient. If a customer visits a WooCommerce store and finds a product is out of stock, they will go to the competition (i.e. other stores or platforms). However, the customer's business is not yet truly lost if they can be notified that their favorite products are back in stock.
Aside from retaining customer trust and ensuring repeat business, a back-in-stock plugin might have additional features as part of a service package. This simply means that you have a chance to get multiple features for the price of one.
Without further adieu, here are some of the best WooCommerce back-in-stock plugins that we've reviewed: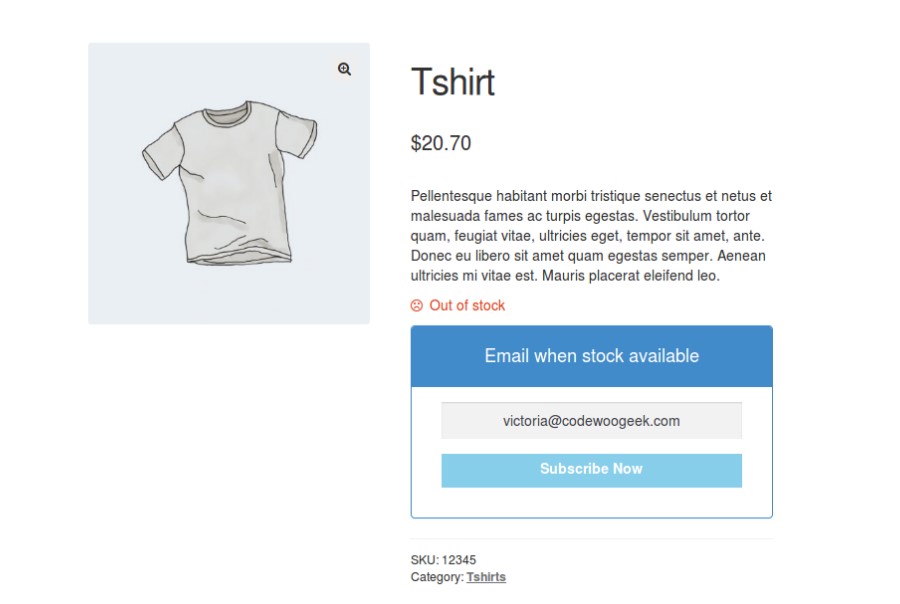 The Back in Stock Notifier for WooCommerce is a popular plugin that relies on fast and accurate email notifications. One of the main strengths of the Back in Stock Notifier is its capability to send an email using the background process, eliminating the hassles and inaccuracies of common notifying tools and plugins.
The Back in Stock Notifier also supports all WooCommerce product types such as simple, variable, grouped, and product bundles. Simple and variable subscriptions are also supported. Whether your WooCommerce store is simple or complicated, it will truly benefit from the Back in Stock Notifier.
Some of the best features of the Notifier plugin are an advanced waitlist, automatic email notifications, email subscription forms, customizable error messages, and customizable email subjects and messages.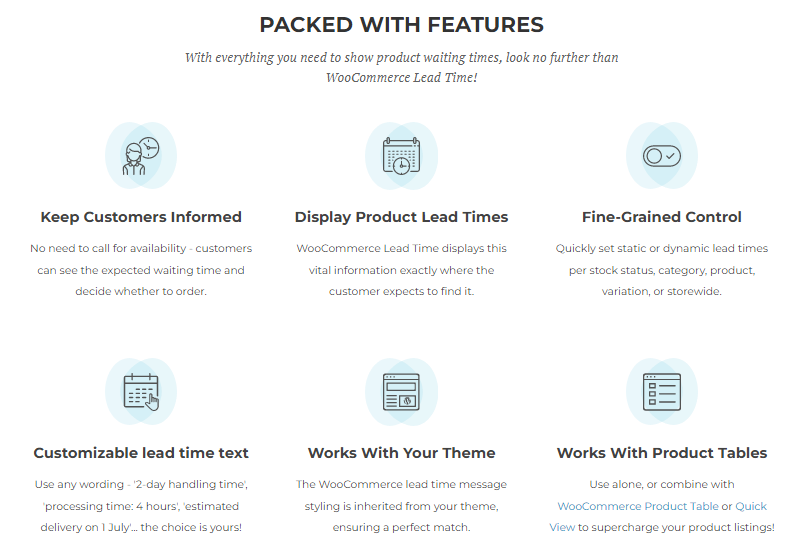 In WooCommerce, lead time refers to the time frame it takes for a product to be shipped or be readied for pickup once an order has been placed. It's possible to modify the lead time of all store products through the WooCommerce dashboard. However, it is more efficient to use a plugin like WooCommerce Lead Time.
The WooCommerce Lead Time plugin is an all-in-one suite that allows you to set up advanced lead times for customers and buyers. Additionally, WooCommerce Lead Time can display out-of-stock messages and make automatic lead time calculations.
Take a look at some of WooCommerce Lead Time's extra features:
Global or by-category lead processing time
Typography customization
Detailed information delivery for customers
WooCommerce Lead Time is great for small and big stores alike. The customizable and flexible features are compatible with most WooCommerce themes, and they even work effectively with WooCommerce tables.
Other Essential Plugins for Your WooCommerce Store
While a back-in-stock plugin is always useful, it can even be more effective working side by side with other WooCommerce plugins. In this article section, we'll introduce you to some of the top WooCommerce plugins offered by the Puri Team.
Are you looking for a way to prevent overselling in your WooCommerce store? Well, you should check out the Reserved Stock Pro. This plugin allows your store to reserve products in customers' carts for a limited time, eliminating the chance of customers missing out on their favorite products. Reserved Stock Pro also removes negative stock, thus improving long-term customer happiness and repeat transactions.
Editing WooCommerce products one by one can be an actual waste of time. With the help of Puri's Stock Editor plugin, you no longer have to edit products one by one. In just a few clicks, you can edit products and variations by bulk. The Stock Editor plugin also offers different features like deep product filtering, multiple product type support, and seamless integration.
Conclusion
A back-in-stock plugin is one of the best ways to improve your store's profitability. Your customers will also appreciate the notifications once their favorite products are already available. In due time, such appreciation will develop into brand trust, effectively making your store more reliable and popular.
Get a back-in-stock plugin today, and don't forget to use it along with Puri's interesting WooCommerce plugins!