Search Filters
Date Picker with many options. Single Day, Date Ranges.
Product Categories. Dropdown or Radio selector.
Keyword Search to filter by product names.
Custom Taxonomies intergrate with third-party plugins to allow additional filtering.
Why do I need Availability Search for WooCommerce Bookings?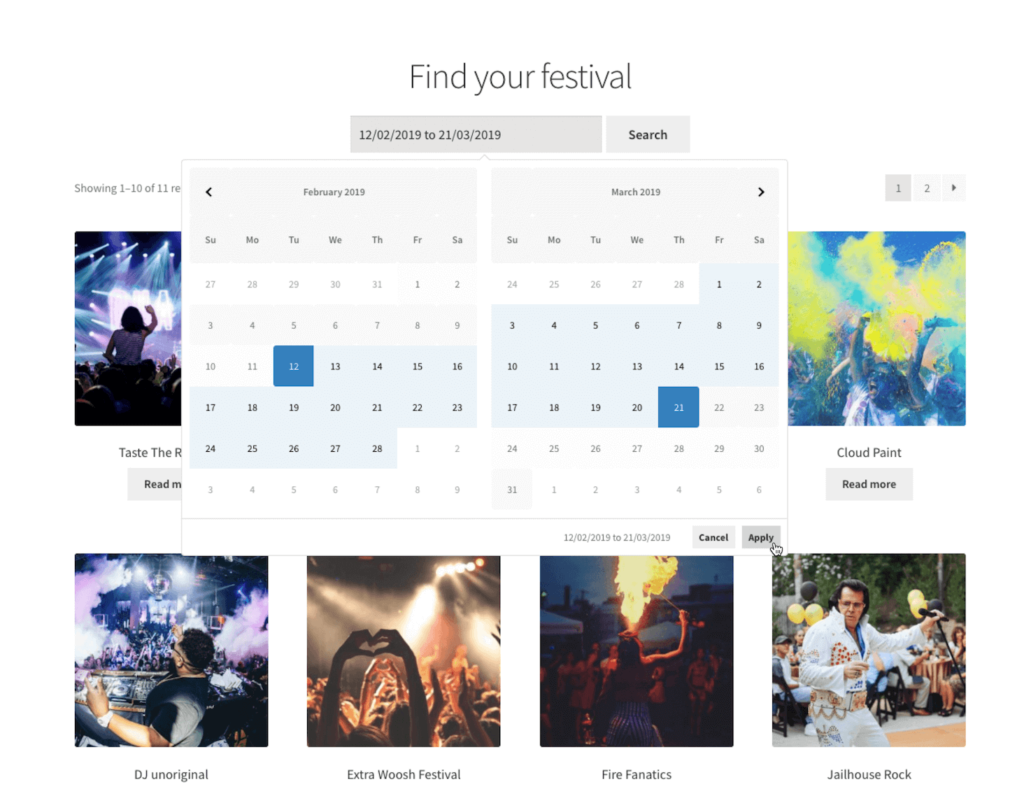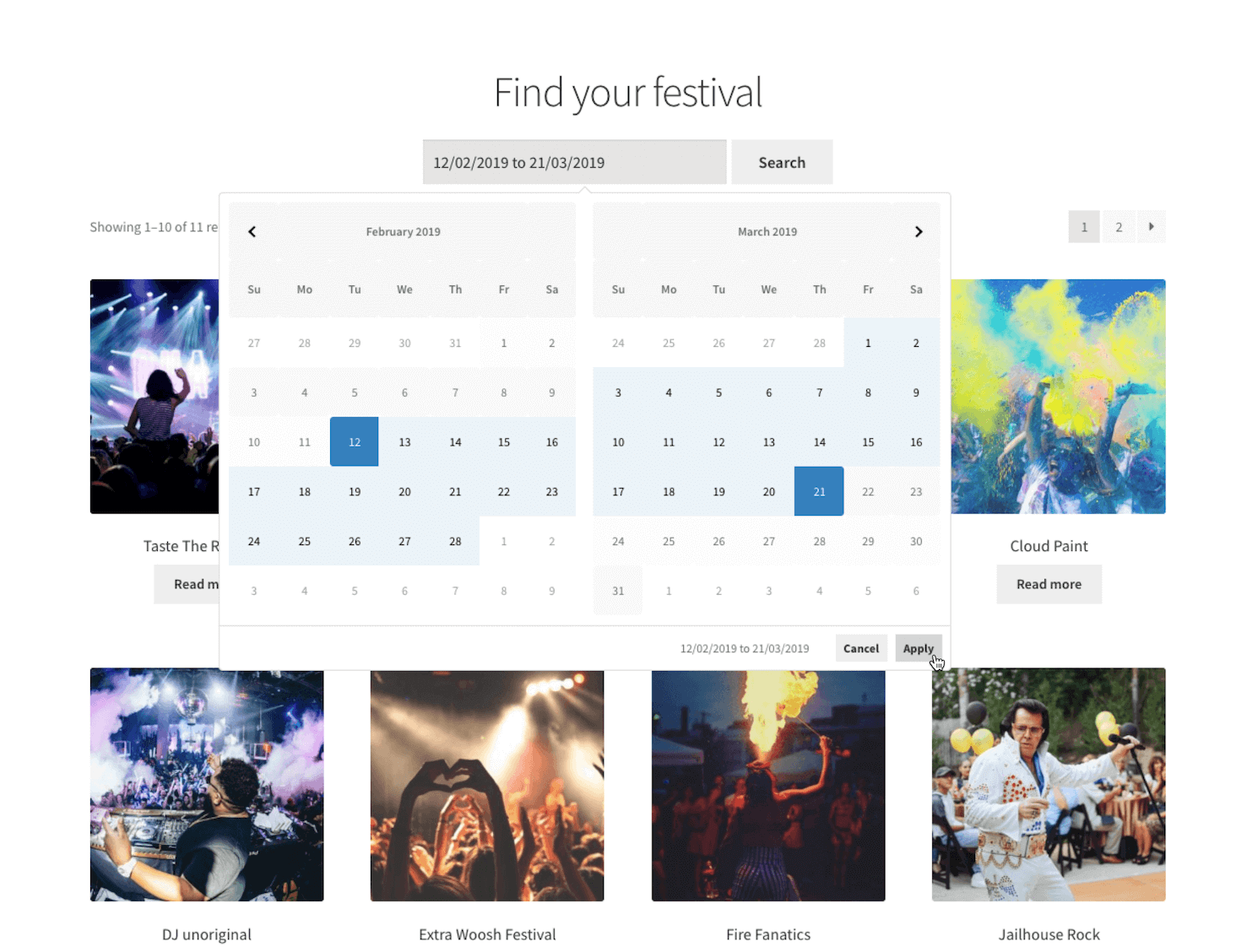 Availability Search makes it fast and easy for your customers to find the bookable product they're searching for. Save them the time and effort of sifting through all your bookable products!
Availability Search lets customers input their chosen dates and search for all available bookable products in that range. This plugin works great for holiday and accommodation bookings, event bookings, rentals, and more!
Supports WooCommerce Accommodation Bookings
You can use our Availability Search with WooCommerce Accommodation Bookings. It works straight out of the box without any further configuration Availability Search supports single days, date ranges, and start and end time.
Translation Ready!
Due to popular demand we've made Availability Search compatible with translations. You can now translate the weekdays, months, buttons and date strings using either third party translation plugins or simple filters. Take a look at our documentation to read more about translating the Availability Search.
Mobile Friendly Date Picker
We believe that accessibility should be fluent and seamless. Mobile friendly sites are more important than ever. Google puts heavy weight on mobile friendly sites. Our date picker is made to look good on mobiles!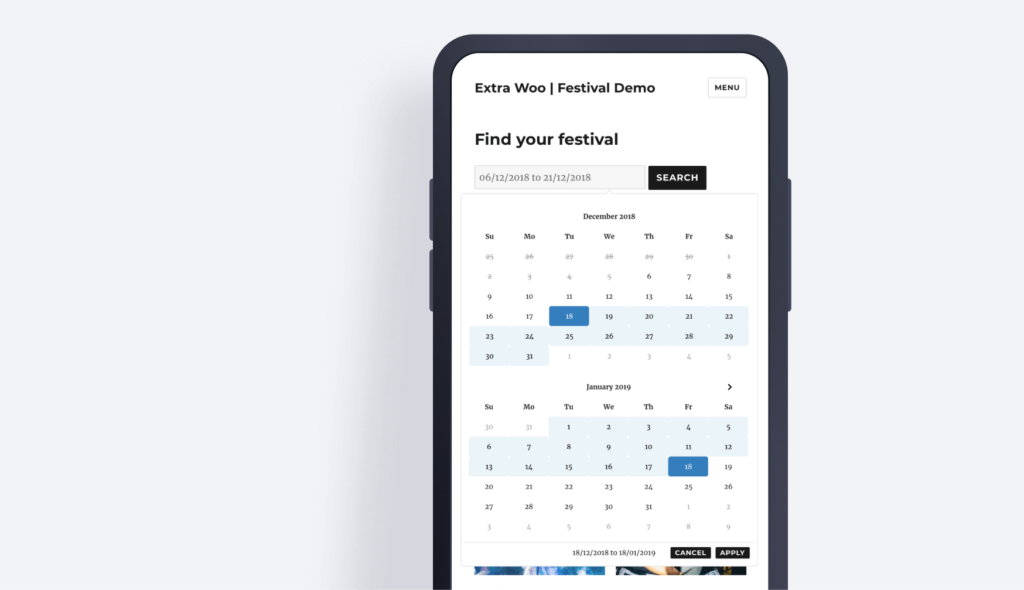 Flexible or Strict Search
Availability Search for WooCommerce bookings comes with 2 search types, which you can select in the settings.
E.g. if you're selling tickets to a festival which is on the 15th, then it will appear if the customer searches from the 1st to the 30th.
Strict will only show bookable products that are strictly available for ALL days in the searched date range. Use Strict if your customers need to book your products for very specific dates. E.g. if your customers are booking a hotel stay and they search from the 1st to the 4th, your bookable rooms will only show if they're available for all of the dates selected.
Product Categories & Custom taxonomies
You can filter the search using a product category or add multiple dropdowns for custom taxonomies. This allows you create flexible booking products that can easily filters.
Learn how to use taxonomies with our shortcode.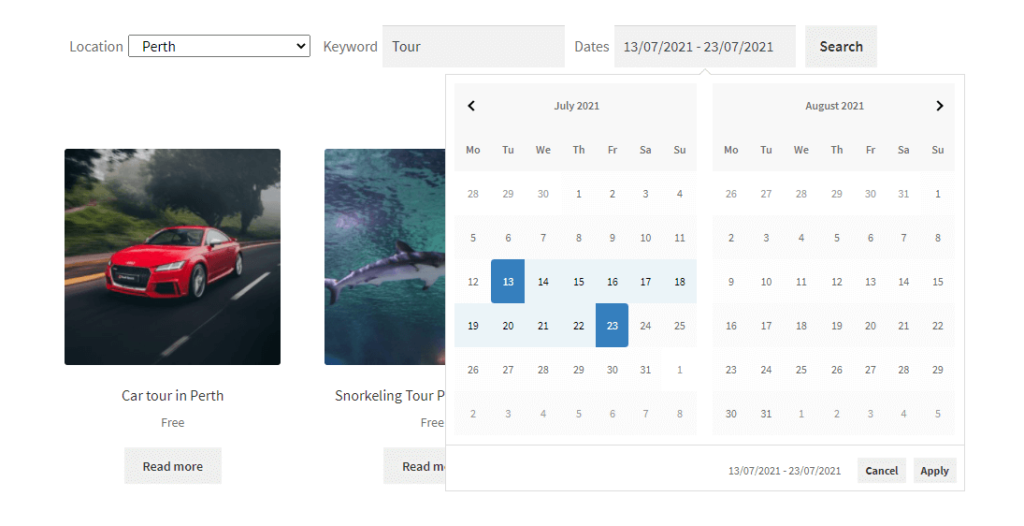 Minimum Bookable Days
The Minimum Bookable days settings from WooCommerce bookings are supported as well. Minimum bookable days work hand in hand with buffer days and unavailable days to find the next available day.
Supports Buffer & Unavailable Days
Some WooCommerce Booking stores use buffer days between bookings. The plugin automatically detects those, as well as any date ranges that have been marked unavailable.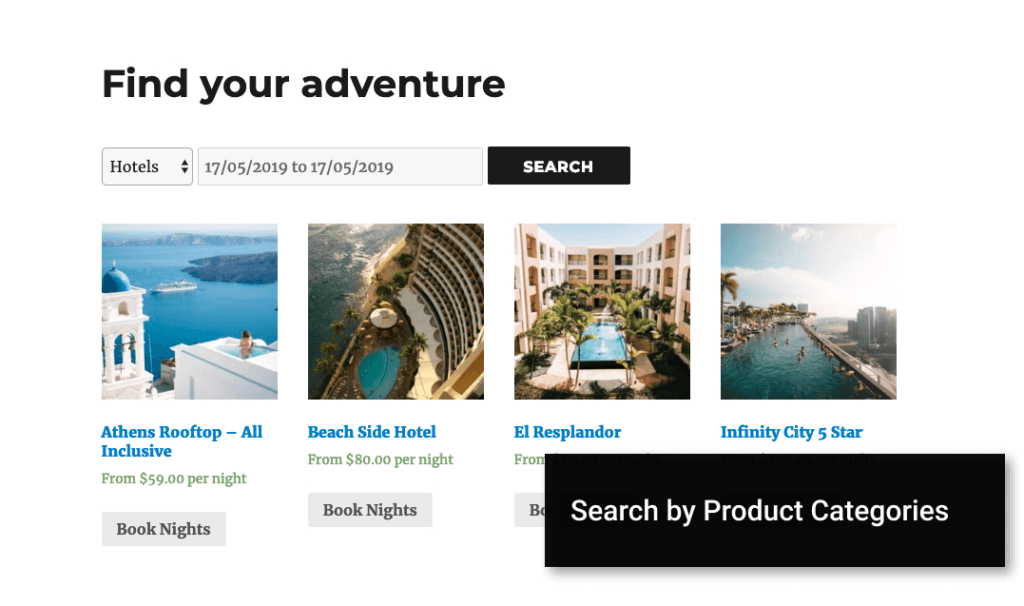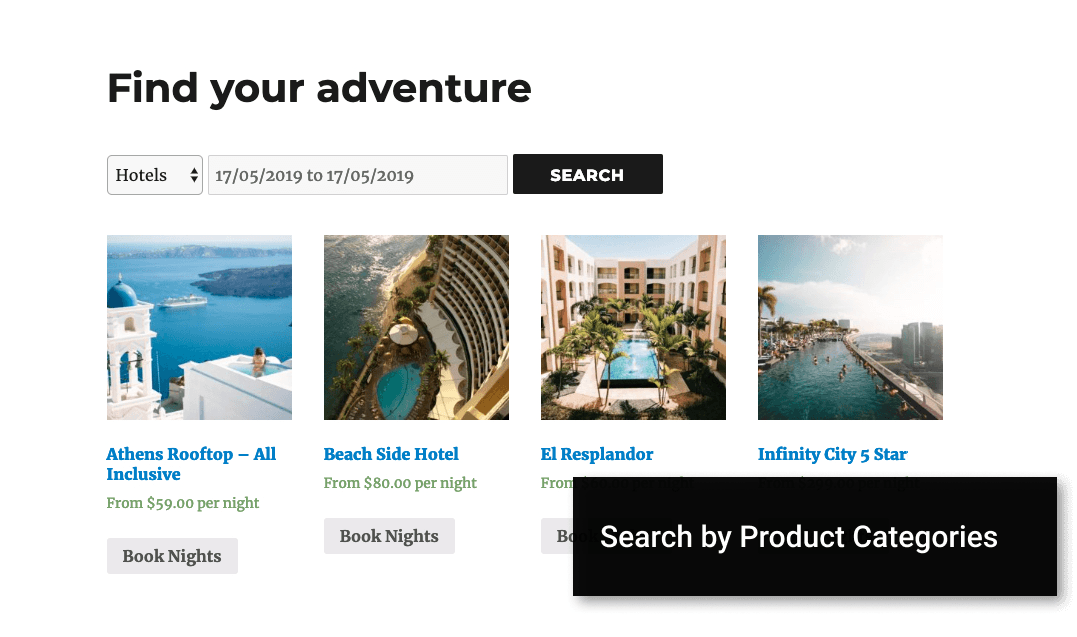 Multiple Bookings Slots
Multiple bookings slots per products are supported. So if 4 slots out 5 have already been booked, then the Availability Search will still pick up the last available slot.
Need A Little Extra Information?​
Head over to our documentation where you'll find in-depth information about features and ways to customise the Availability Search. There's even example functions and CSS styling!
We're excited about what the Availability Search can do for WooCommerce businesses and we want our plugins to be as flexible as possible.
Reviews
I bought "Booking Filters for WooCommerce" from woocommerce.com and it didn't work, so I returned it. "Availability Search for WooCommerce Bookings" plugin works perfectly with the latest version of Wc bookings. ㅆThank you!
Thank you Morgan for your quick response, the plugin is now ready to use on my site. Keep the good work up!
The puri.io team have a fantastic plugin here. The plugin is great but I also needed a bit more flexibility with custom taxonomies for a more granular search.
After reaching out to the puri.io team, even though they were overseas on holidays, they responded quickly and worked through what i was after.
The latest release has the functionality i needed allowing me to further develop my site to give it this awesome search that will allow my customers to find what they need more easily. I can't wait to launch my site and have people wowed.
I look forward to working with the team into the future and would recommend them to any one.
Thanks Morgan and Lari
The plugin works perfectly.
The magnificent support: taking interest, speed and solving my problem.
I developed a customization on your plugin and detected a malfunction with another cache plugin. I contacted the support and in less than a day, they uploaded an update that solved my problem.
I recommend this plugin and 100% programmers.
I was looking for a plugin doing this and I found it!
Support is very good, emails are answered quickly and the team is constantly improving the plugin.
I recommend it!
Really great plugin! It works fine and fast and the support is awesome!
Very good plugin, but it's a shame that you can create one search calendar and it works globally (not suitable for multiple product pages).
Good job anyway.
Hi Bart! Thank you for leaving a review! We are actually in the middle of working on features that might be just what you're looking for.

The update will include the ability to display the Availability Search in multiple places with unique settings, and optionally having customers choose which product category to search within using a dropdown next to date picker.

Hopefully we can turn that 4 into a 5 star!

UPDATE Multiple Searches are now a feature, see our docs regarding the shortcode 🙂
The plugin is great, it's all I needed. And I was amazed by the quality of the support. All my emails have been answered to very quickly and the developer goes the extra mile to make sure everything is perfect on the client's website. Can't recommend extrawoo highly enough! Will definitely buy again from them without hesitation. Thanks guys! Keep up the good work 😀
Exactly what I was looking for. This plugin will save my customers a lot of time in order to book the products they are searching for there events.
If you have any questions the support is extremely motivated and friendly!
Was looking for a plugin that will search in Bookings with Fixed blocks of hours. finally found this plugin, simple and works!
the developer is constantly developing and improving the plugin. Support is awesome! thanks!
You must log in and be a buyer of this download to submit a review.