Better inventory management
We heard you, updating products and waiting for the page to refresh is a time drain. Store owners shouldn't be spending their time waiting!
Our Stock Editor plugin is built on the latest technology and will update product stock quantity instantly in bulk.
You'll experience the fastest way to manage stock within WooCommerce in a table style. You can read more about you default WooCommerce stock management options and compare for yourself.
Features
Our Stock Editor includes the following features:
Filter products by name, SKU and stock status.

In Stock
Out of stock
On backorder

Edit the following product meta

Stock quantity
Enable or disable backorder
Enable or disable stock management
Edit each variation in popup table.
Supported product types:
Simple products
Variable products and each variation
Bundled products
Subscription products
You can use any WooCommerce product types that has the standard stock management.
Bulk stock editing, fast code
Seamless code integration with WordPress, WooCommerce & React.
Product data handling securely and fast with WooCommerce API.
Purposeful code as a perfect alternative to other bulk product stock plugins.
If you are feeling brave you can also try to creating a DIY solution, we've written how to programatically change stock levels using WooCommerce code.
Update variable products FAST
Variable products can now be edited much faster than before! Gone are the days of entering each product and spending precious time locating a specific variation.
Each variable product in the Stock Editor will have an option for you to click "Edit Variations". All variations of the selected product will be displayed in the pop-up table. Variations are updated instantly as well.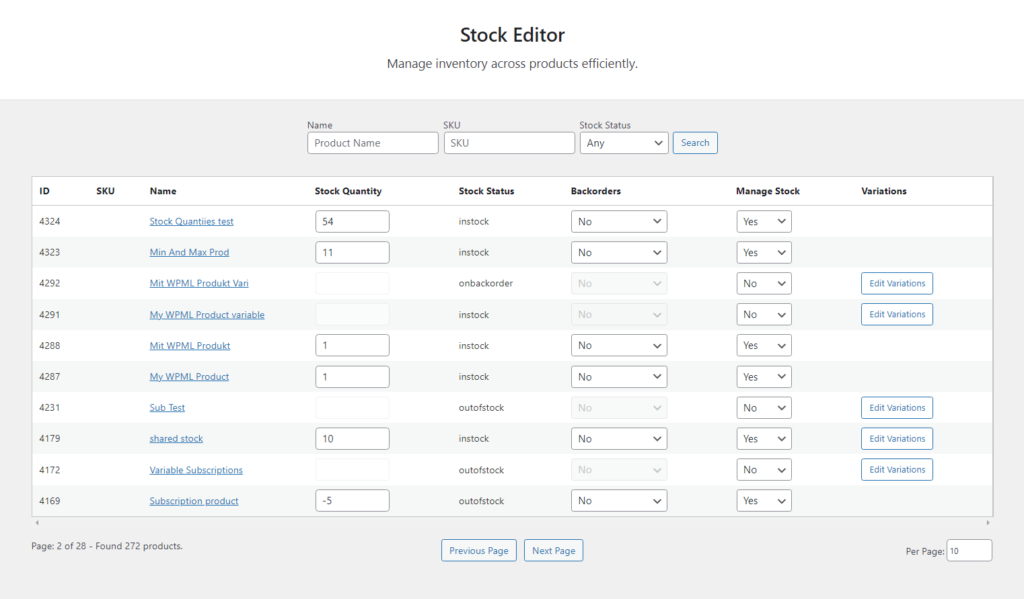 Why should you try our Stock Editor?
Let's be honest, running a business take time. Your time will be better spent growing your business rather than fiddling with your product inventory in WooCommerce. You can optimize your store today by speeding routine tasks.
Ready to speed up a vital part of your eCommerce store?
We are confident you'll love our Stock Editor for WooCommece.
Try it risk-free with our 14-day refund guarantee.