What WooCommerce Checkout Countdown Pro Does
Get sales faster using our Checkout Countdown for WooCommerce. The countdown can increase your store's conversion rate using FOMO (fear of missing out).
Customers will want to go through the checkout before it's finished! We recommend using a coupon code in the countdown banner for added incentive.
Features
| Checkout Countdown | Pro | Free |
| --- | --- | --- |
| Amount of minutes | ✔ | ✔ |
| Notification bar with countdown | ✔ | ✔ |
| WooCommerce checkout and cart notice | ✔ | ✔ |
| Flexible shortcode | ✔ | ✔ |
| Reset time when a product is added to cart. | ✔ | ✖ |
| Empty and Clear the Cart when countdown has finished | ✔ | ✖ |
| Redirect customer when countdown has finished. | ✔ | ✖ |
| Loop/repeat the countdown timer | ✔ | ✖ |
| Refresh products and totals with each repeat | ✔ | ✖ |
| Empty the WooCommerce cart when the countdown finishes | ✔ | ✖ |
| AJAX Support (Start the countdown when a product is added to cart without reloading the page) | ✔ | ✖ |
Real-Time Countdown timer
Some countdown apps just restart every time the page refreshes. This can have a negative impact on your customers because the countdown doesn't seem real. So we've come up with a solution!
Checkout countdown will continue to count even if your customer has closed their browser! The session is saved into customer's browsers and will continue when they visit your store again. Make sure you set a custom message for when the countdown has expired.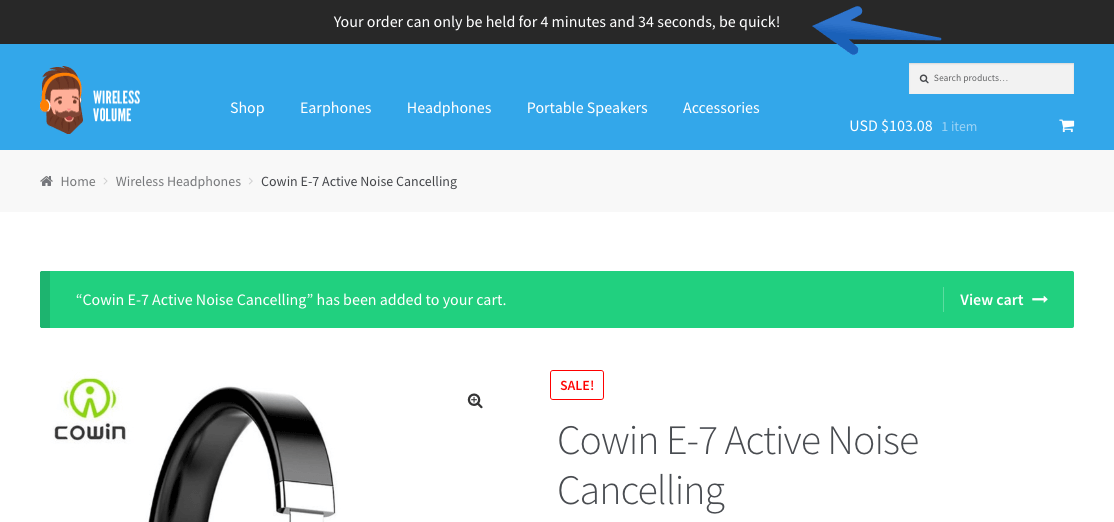 Custom Actions
Use Checkout Countdown to perform custom actions after the countdown reaches zero. You can choose to either clear the cart, refresh prices and reset the countdown, or redirect customers to a custom page.
Note: clearing the cart will only happen if the customer is still on your shop site when their countdown reaches zero.
If you need a complete solution to automatically clear or delete customer's carts and sessions then have a look at our WooCommerce Clear Cart plugin.
Personalized Messages
Use Checkout Countdown to show different messages.
You can set a banner that appears before any product is added to the cart. This can be used to inform customers of limited time offers or special sales you're running.
When items are added to the cart, add a personalized message can be added before or after the countdown time, such as "We can only hold your order for (time)" or, "Your order will expire after (time). Don't miss out!"
You can also add a complete custom message after the countdown has reached zero and select the amount of time you want this message to be displayed before using one of the other actions such as clearing the cart or refresh prices and loop the countdown.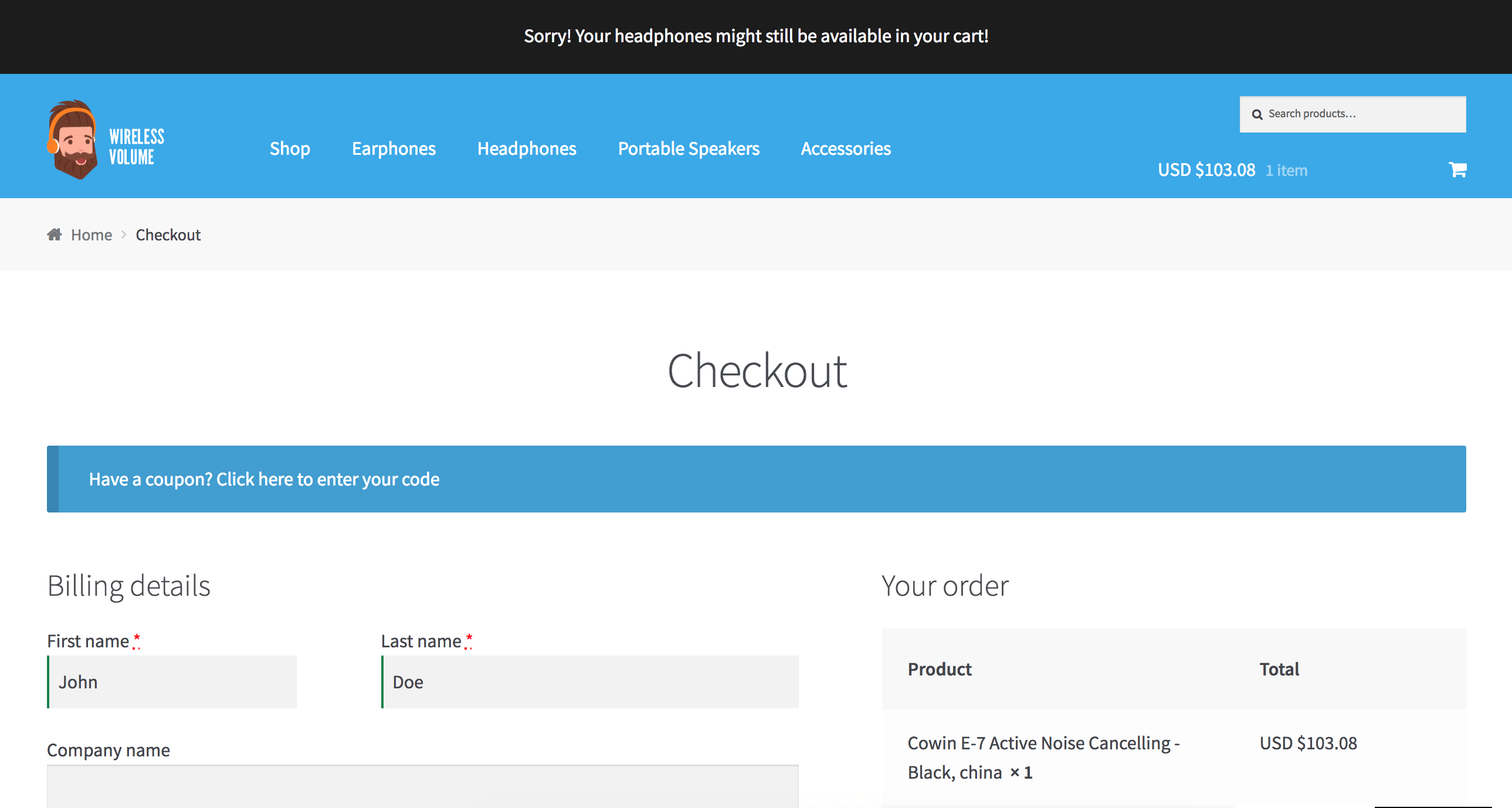 Native WooCommerce Notices or Custom Banner
There are a few styles included in the plugin. The countdown can display as a WooCommerce Notice on the cart and checkout. Checkout Countdown can run inside the WooCommerce Notice to match your theme perfectly.
You can also select a custom top banner and style it yourself with background and font colors.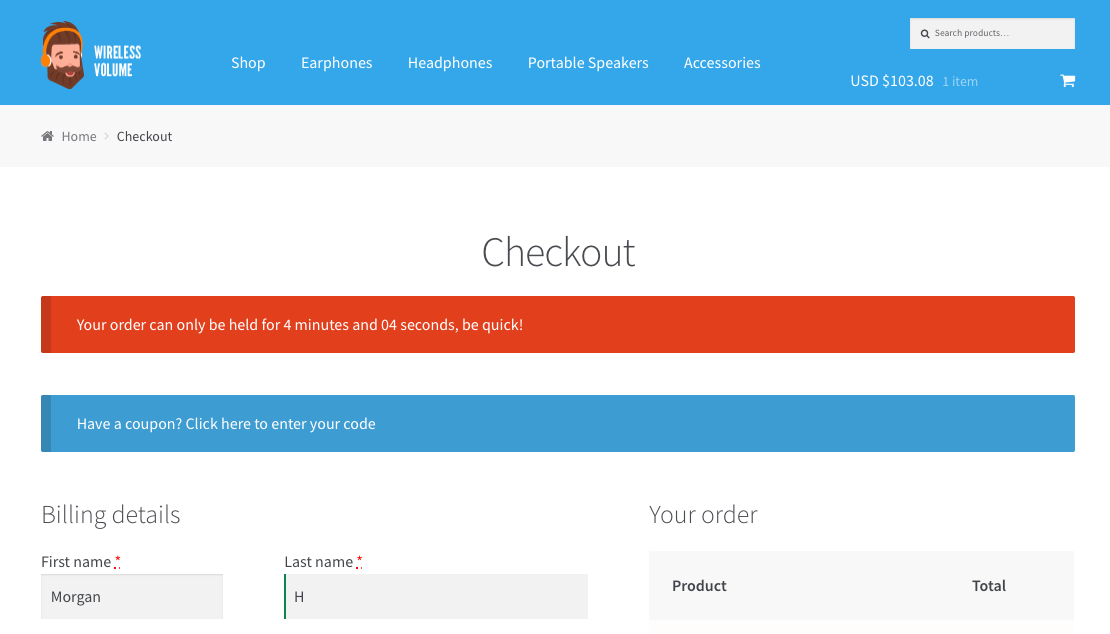 Shortcode for Customizable Placement
Use the [checkout_countdown] shortcode anywhere you'd like the countdown timer to show up on your site. It's more customizable and gives you the power to fine-tune how you want the timer to be displayed.
Lightweight and Doesn't Fill Your Database
Our countdown timer does all the work in your visitor's browser. This means that your database will never clog up, even with 1000+ active visitors! Checkout Countdown uses LocalStorage with JavaScript, which is supported by all major browsers on desktop and mobile.
Our Checkout Countdown plugin helps you to increase conversion rates and get sales in faster!
Reviews
The plugin worked exactly as promoted. There were some minor customization that I needed and the team helped with it promptly. Thanks for a good plugin and great job.
We only sell single items in our shop, so I was looking for a tool to delete the shopping carts after a while. When I first found Morgan's tool it had only a countdown without clearing. After my request to offer a deletion function he implemented this in a very short time. His support is also great. He answers quickly and fixes problems in no time. I can highly recommend the plugin and his development.
Write a Review