Your online WooCommerce store is selling a lot of product stock, that's great! Unfortunately keeping your inventory levels up to date inside WooCommerce can be time-consuming and costly in the long run. I'm here today to show how to save time and money, by improving your product stock workflow.
Let me first explain how the stock is managed in WooCommerce by default.
How is stock handled in WooCommerce?
Each product can have it's own stock level. Stock is managed from the product edit screen.
Each product variation can have an independent stock level from the parent product. Variation's stock is managed from the parent product edit screen urnder the "Variations" tab. You'll have to scroll and click around to find it each variation.
How to edit product stock (The slow way)
Navigate to your Products list inside WooCommerce and locate the product you wish to update.
Once you hover over the product you'll notice a few buttons.
Edit
Quick Edit
Trash
View
Duplicate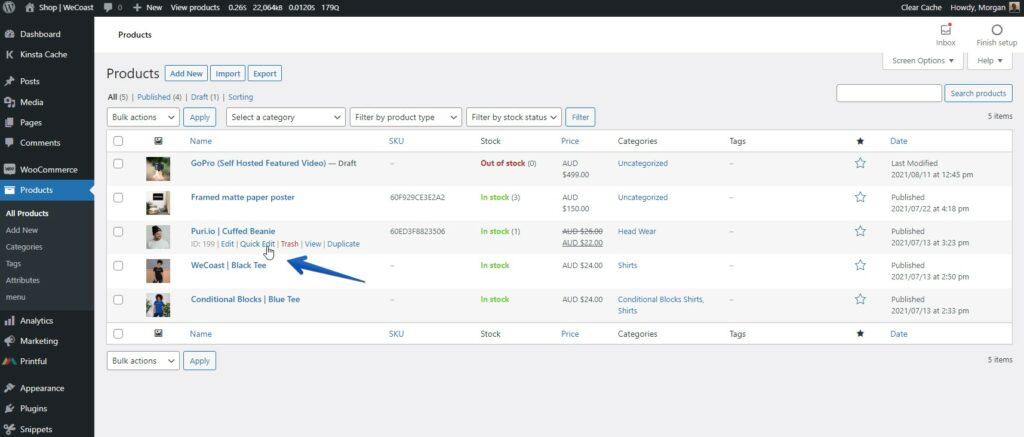 I'll explain how to use the "Edit" and "Quick Edit" methods. Afterward, I'll show my recommended workflow or update a lot of products fast!
Update stock from the product edit page
Once you click the "Edit" button from the product list you'll find the "Edit Product" page. This page is where you manage your entire product.
Clicking on the "Inventory" tab inside the product data is where you'll find the stock quantity.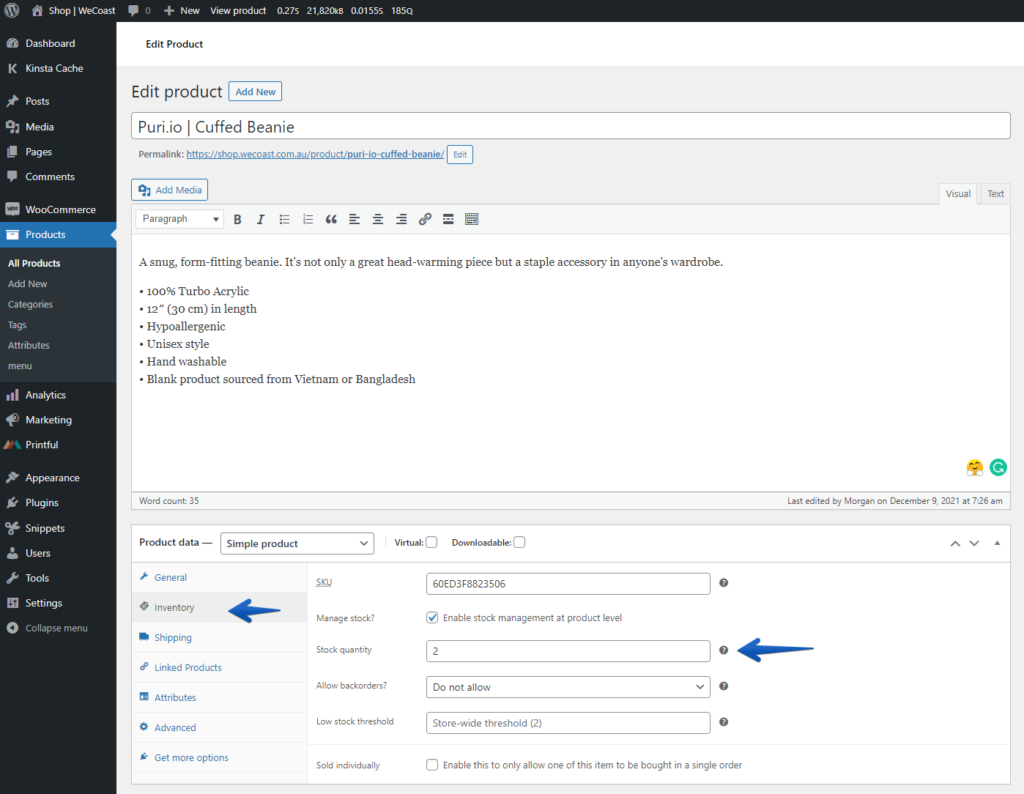 Variable products are different
Variable products can seem confusing at the start. Let me explain using the example of selling t-shirts.
If you are selling a specific t-shirt design you'd create a new variable product in WooCommerce. The variable product itself is also known as the "parent" product.
The variable product will have different variations that are known as.. well variations! These variations would be different sizes and colors of the t-shirt.
Each variation has two options when it comes to stock management.
Manage Stock: Off
Manage Stock: On
If a variation doesn't "Manage Stock" and the parent product does have a stock level, then each new order will reduce the stock of the parent.
If a variation does "Manage Stock", then each new order will reduce the stock of the variation.
Okay, but how do we edit the stock quantity? Scroll down to the variations section and click on each variation to expand the settings. You'll find the stock setting there.
Yes, updating many variations will take a long time. I'll show you a better way soon!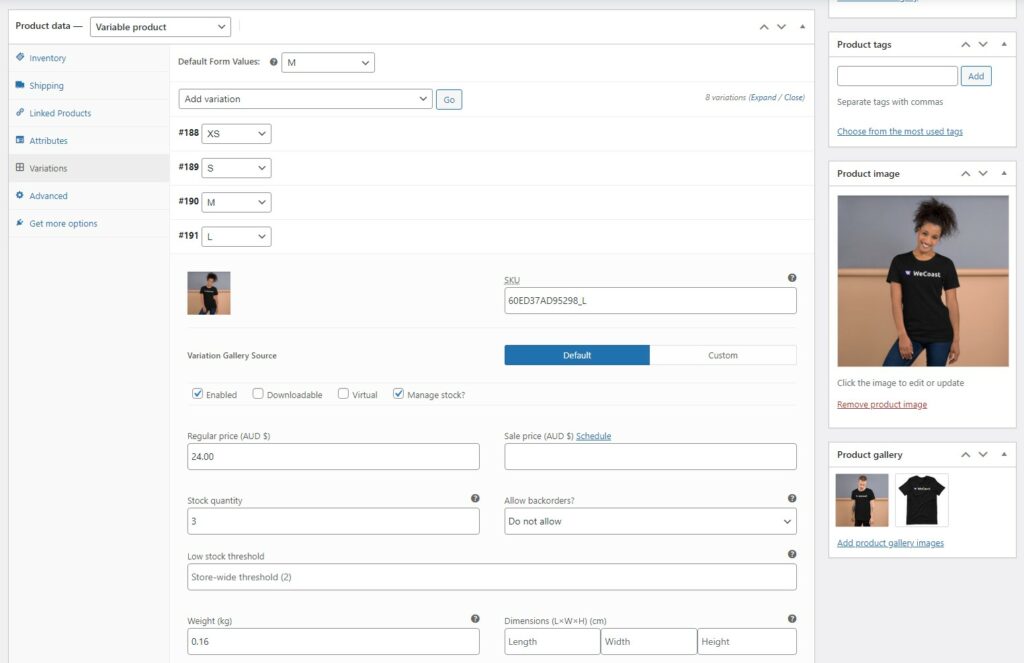 How to edit stock with the Quick Edit option (slightly faster)
Click on the Quick Edit button, then additional options will appear. You can make changes to the product and stock level here and hit save. You can manage bulk stock updates from this view using the "Bulk Actions" in the screenshots. However, attempting to bulk edit stock will make all products have the same quantity. You cannot differentiate.
Uh oh! The Quick Edit option also DOES NOT support updating variations. Don't worry I have a solution for busy store owners, that will save you time.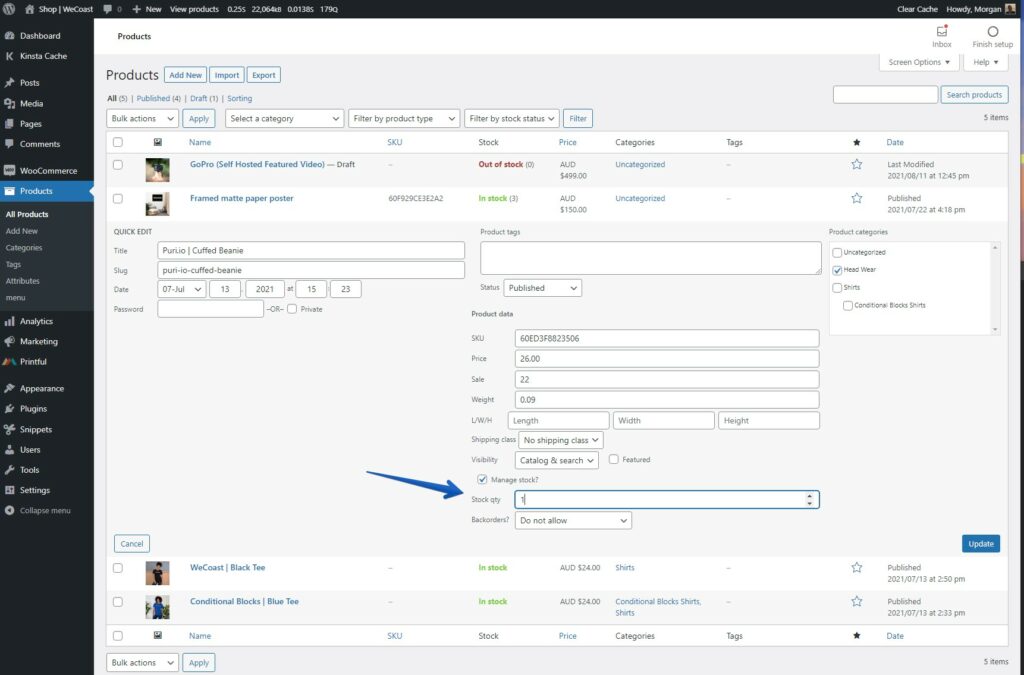 Introducing the Stock Editor (the fastest way)
I've been working with store owners who spend way too much time updating their inventory in WooCommerce. They want to take back their time and use it on growing the business.
So, what were the requirements?
A dedicated fast stock editor.
Update stock in real-time without refreshing the page.
Live product search for all products.
Support product variations with one click and fast overview.
The result was our new plugin Stock Editor for WooCommerce which is available right now.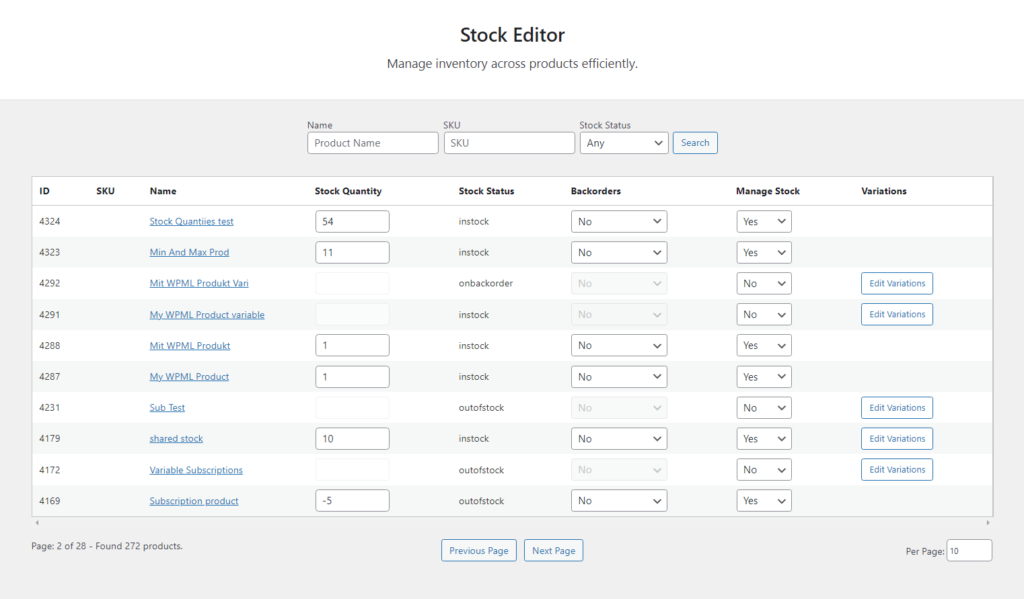 I'm super excited to help more store owners like yourself to operate efficiently and fast within the inventory side of WooCommerce.
Give the Stock Editor a try, I'm confident that you won't go back to the standard way of updating stock.