Running an online store can be challenging, especially when it comes to managing stock and avoiding overselling. However, there are ways to handle time-limited products in your WooCommerce cart to prevent negative stock and order errors. In this article, we'll show you how to set up and manage time-limited products in your store, including adjusting stock reservation times and keeping customers informed with countdown features. More importantly, you can now take control of your online sales and ensure smooth transactions with the power of time-limited products in your WooCommerce store.
Why Time Limited Products May Help Your eCommerce Store?
Time limited products can help your store in many ways, as well as encourage customers to purchase quicker. So, let's go over some of the ways and how to use them to your advantage.
The scarcity effect: There's only a small amount of stock available, creating an increased desire for the products from customers.
Exclusivity: The product is only available during very specific times or to specific people. People will feel privileged to own your product.
Prevent Overselling: During rush sales, store owners have reported an issue with overselling and negative stock which results in having to refund customers. Overselling doesn't look good and will make the customer hesitant to purchase again.
How To Offer Time Limited Products The Right Way (without fake timers)?
Online shoppers are getting more savvy by the day. Everybody's used to seeing fake timers and fake sale discounts. There are also many other bad practices that don't work. We recommend that you stay far away from doing these kinds of sales tactics since your customers will see right through them, and it could result in a negative impact on your store.
Therefore, there is a very distinct line between the right way and the wrong way to offer time limited products we need to build the customers trust, and they need to know.
Set a Time Limit for Products in Cart (Countdown)
There are several WooCommerce plugins designed to handle checkout/cart countdown timers. However, they are not great. Most of them are not considered a "real" countdown. Unfortunately, this is a huge limitation because customers can generally just refresh their browser, and the countdown restarts. Some countdowns even restarts automatically after they expire, keeping all products in the cart as normal.
There's two plugins that I recommend:
Reserved Stock Pro for WooCommerce
The main benefit of the plugin Reserved Stock Pro is that it allows customers to reserve stocks whenever they add a product to their cart. This means that the stock is immediately "locked" for that specific customer, and no other customer can add the same stock to their cart. Additionally, each customer can see a countdown for their reserved products, which indicates the time left for them to complete the purchase.
Most importantly, when the countdown runs out, all products are automatically removed from the customer's cart and made available for the next customer to purchase. This ensures that the stock is allocated efficiently, preventing customers from holding on to products for too long.
Reserved Stock Pro is great for the scarcity effect and exclusivity when dealing with small amounts of stock with high customer demand. Products are reserved in the customers cart, which also prevents over-selling!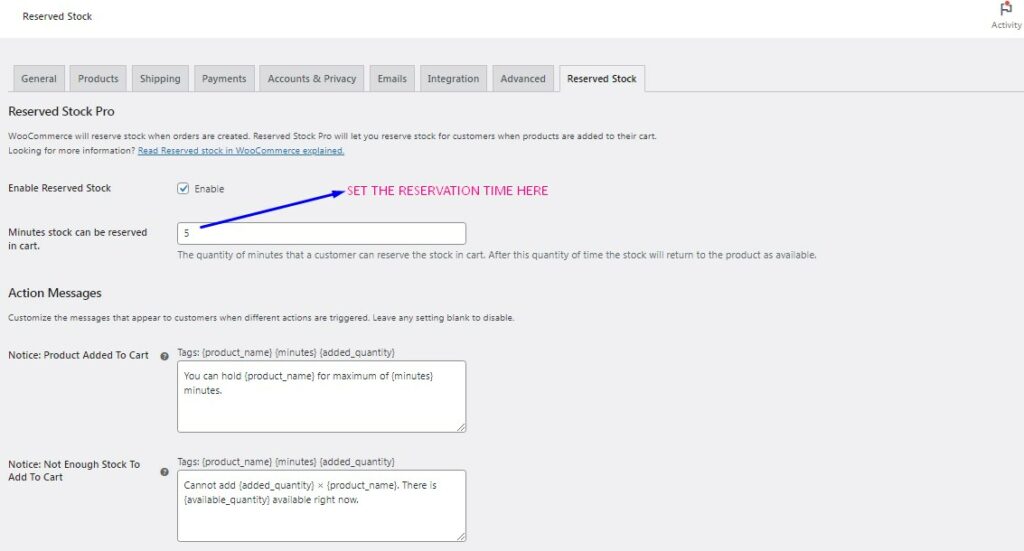 Reserved Stock Pro prevents overselling because the stocks are secured in customers' carts. These stocks are now essentially time-limited products. Once the time has expired, the stocks will go back to the store, ready to be purchased by other people.
Another exceptional thing about Reserved Stock Pro is the real-time display of the products currently reserved. This is a great chance to raise the popularity of your store's products. If customers see that your products are constantly being reserved, they will think that your products are irresistible.
What if some customers failed to buy your irresistible products? In that case, Reserved Stock Pro can help by informing customers when the products will become available again. Customers will definitely have a better buying experience, and they will return for repeat business.
Lastly, Reserved Stock Pro is flexible because it can be applied to all viable product types such as simple products, variation products, grouped products, subscriptions, and WooCommerce product bundles.
Checkout Countdown for WooCommerce
The Checkout Countdown plugin offers an easy way to add a countdown to any WooCommerce store. The main difference over RSP is that Checkout Countdown is not focused on stock management. Therefore, you should only consider Checkout Countdown if you are selling products that are not 'stock managed', or stock managed by a different system such as event tickets, or WooCommerce Bookings. You should set the countdown timer to the same time as those systems.
Checkout Countdown is highly customizable and you can even change its appearance with a few clicks.
Selling Products During A Time Period (Date & Time)
Creating sales content to appear visually for specific dates or time of the day can be a powerful method for creating limited sale events.
Luckily, there's an easy way to build pages with dynamic sales using WordPress. Conditional Blocks is our favorite, the best visibility plugin for WordPress in our opinion.
We recommend using the Date Range & Recurring Date conditions to create time specific sales content.
Another way to increase your store's profitability while time-limited products are out of stock is to use a plugin called Conditional Blocks for WooCommerce. This plugin will let you set up conditional content blocks based on WooCommerce parameters like total customer spent, geolocation, product categories, and cart products. Conditional Blocks is useful for setting up product announcements, exclusive cross-selling messages, and event information.
Setting Up A Product Time Period with Woo Product Timer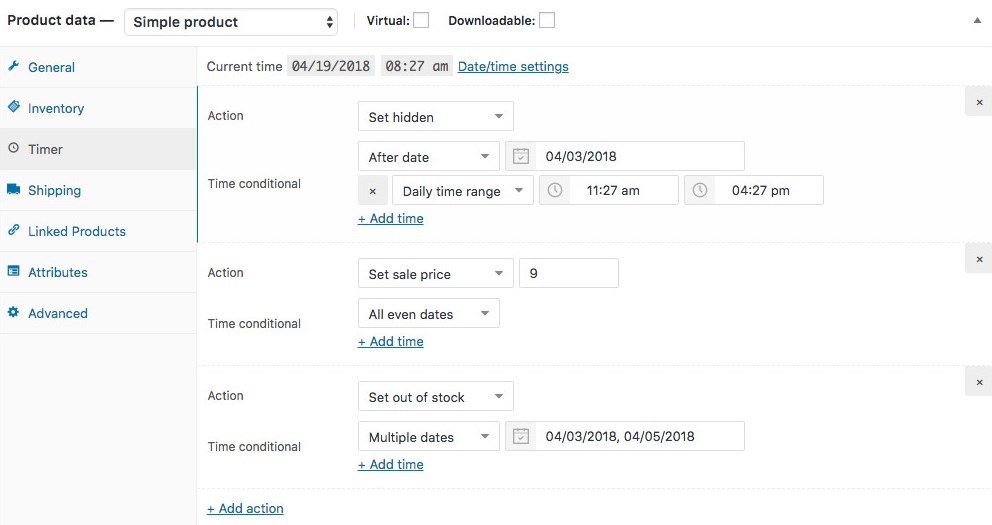 If you want to set up time-based conditions for your store, you can try using a plugin called WPC Product Timer for WooCommerce. The WPC Product Timer offers different features such as recurring period settings, time & date conditions, visual calendar, product availability setting, and global timer. Plus, the WPC plugin can even set a block to be visible or hidden.
One popular use case of WPC Product Timer is a scheduled product launch. If your product is set out to launch on a specific day, you can just set a timer to notify all visitors and potential customers. Additionally, you can use customized timer set-ups during long weekly sales to entice more customers.
Final Reminders
Overselling and negative stock issues can affect the long-term profitability of your WooCommerce store. While you can always make manual changes to WooCommerce settings, you'll gain the most benefits from using Reserved Stock Pro. With RSP, you can set up product reservation time easily and you can even customize messages to strengthen customer trust.
Get Reserved Stock Pro today and see how it can solve your store's stock problems!