Optimizing your WooCommerce store's checkout experience is a great move that will make your customers happy. If your store's checkout experience is smooth, your customers might feel inclined to return and purchase more products.
In this article, you will learn how to optimize the checkout process of your store. We'll break down all of the important tips and strategies. More importantly, we'll also suggest some plugins and tools that can help optimize your store's checkout process.
The Standard WooCommerce Checkout Flow
WooCommerce's checkout process is quick, efficient, and easily customizable. Plus, the WooCommerce checkout process is even compatible with dozens of cart plugins and valuable add-ons.
The checkout process starts on the shopping/product page where the customer makes the decision to purchase their chosen product by clicking "add to cart" or "buy now".. Afterwards, the process will lead the customer to the checkout page where they can enter their billing and shipping details. 
Next, the customer can then choose their preferred payment method in the section known as 'payment gateway.' Some of the popular payment gateways are PayPal, Stripe, bank transfers, VISA, and other types of payment methods.
After the payment is completed, the customer will receive a confirmation email and the order will be processed accordingly.
Additionally, you risk losing the customer during the checkout process if you don't make selective decisions to optimize the experience. You should aim for a balance between trust, convenience and efficiency regarding the information that you collect from the customer.
Why is it Important to Optimize the WooCommerce Checkout Experience?
A well-optimized checkout experience is important for making your customers happy. Imagine that your favorite customer finally decided to order your product. Before the customer can even input their billing information, the page suddenly froze. Encountering an error page will disconnect the customer from the buying process, effectively resulting in a lost sale.
Another angle that you can consider is trust in your brand. If your store's checkout page is very slow or constantly crashing, it won't build trust among your customers. In fact, customers might think that your store is full of vulnerabilities and they won't buy anymore.
Even if you have a remarkable line-up of products, you won't have decent sales if your store's checkout experience is not properly optimized!
What Are the Ways of Optimizing WooCommerce Checkout?
In this section, we will show you some of the best ways of optimizing your store's checkout process.
Keep the Checkout Page Simple and Concise (Distraction free)
A checkout page is meant for generating conversions and finalizing the sales process. Therefore, it's important to remove any parts that can distract customers from the sale.
Some parts that can be removed are extra-colorful headers, ad banners, and even unrelated website links. As much as possible, you should try to minimize having too many clickable areas in your checkout page.
Minimize the Checkout Fields to Increase Conversion Rates
Streamlining the checkout process on eCommerce platforms is essential for boosting conversion rates. Here's how minimizing checkout fields benefits your online store:
1. Lower cart abandonment: Fewer fields lead to a faster and simpler checkout experience, therefore reducing cart abandonments.
2. Improved user experience: A smooth checkout process makes customers happier and more likely to return.
3. Increased trust: Collecting only necessary information alleviates privacy concerns and establishes a secure shopping environment.
Tips to Simplify Checkout Fields
1. Focus on essentials: Gather only crucial information like shipping address, contact details, and payment information.
2. Offer guest checkout: Allow customers to check out without creating an account for a smoother process. If your customers are happy due to the smooth checkout process, they might even be convinced to sign up for an account.
3. Auto-fill fields: Implement auto-filling technology to save time and effort for customers as stated in the below section.
4. Combine fields: Merge related fields, such as "Full Name" instead of using "First Name" and "Last Name." By doing so, customers can save time while submitting their information.
5. Use smart defaults: Set common options as default to save time for customers, such as country zip code and phone code..
Allow Auto-Population of Fields
Auto-populating fields seems like a simple function but it can reduce checkout abandonment significantly. Think of it this way: your store customers don't have to manually input relevant information one by one. Auto-populating fields will allow repeat customers to save time, effectively improving their shopping experience.
You can use a plugin called Google Address Autocomplete for WooCommerce. Aside from auto-populating address fields, the plugin helps prevent shipping address errors resulting from people making unintentional typos.
Add A Guest Checkout Function
Customers who don't want to register for an account can rely on a store's guest checkout function. Through this method, customers can order their favorite products without signing up or logging in.
Adding a guest checkout method can be done in less than a minute. It's also possible to use plugins to activate guest checkout with other useful functions.
Add Multiple Payment Methods
Having multiple payment options in your store is an excellent way of optimizing the checkout process. If a customer can't use the payment gateways indicated in a store, they can simply choose other viable options.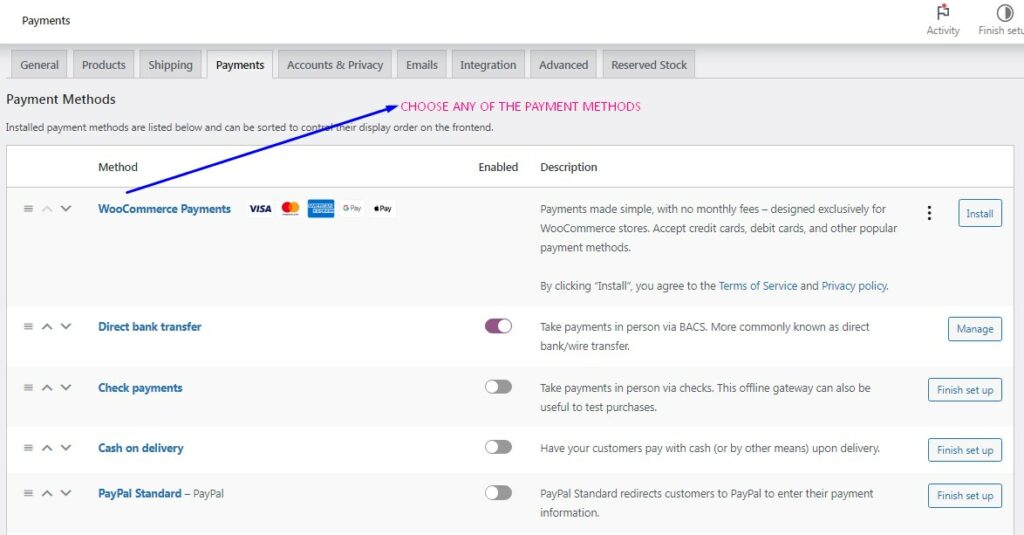 You can add different payment methods in the WooCommerce Settings panel. In the Payments section, simply choose the payment methods available in your WooCommerce account.
Optimize Your Store for Mobile Shopping
Currently, more than 75% of customers have used their mobile phones to order something online. This simply means that people love to do shopping from the comfort of their homes and offices. If your WooCommerce store is not optimized for mobile shopping checkout, you will definitely miss out on a lot of conversion and sales.
Here are some quick ways to mobile-optimize your store's checkout:
Pick a fast-loading and highly responsive theme
Compress the images that will be used for your store
Add a 'pay by mobile' option
Always use easy-to-read fonts for your checkout page
Additionally, we have an entire post dedicated to optimizing WooCommerce for speed.
Provide Better Information through Product/Stock Statuses
Most customers love to know if their favorite products are low on stock, out of stock, or currently restocked in the store. Through proper notifications, customers can adjust their budgets and make better purchasing decisions.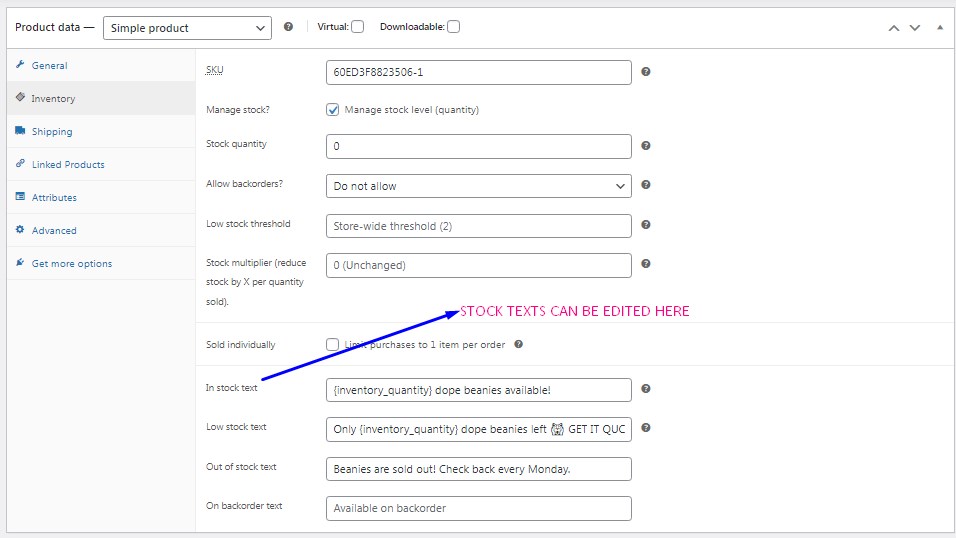 One of the best ways to inform your customers about stock changes is to use a custom stock status plugin. The stock status plugin will help you add custom texts for every stock and product category. Dynamic date tags can also be added, informing customers when products will return in circulation.
Social Proof with excellent reviews
Should you put reviews on your checkout page? Absolutely! Product reviews from real customers is a great way to show "social proof" and encourage the person to complete their purchase. We recommend that you only put a few reviews, and make sure they aren't distracting from the checkout form itself.
Add a countdown for FOMO
When it comes to adding a FOMO (Fear of Missing Out) countdown timer, one option that you can try is Checkout Countdown for WooCommerce. This timer plugin is highly customizable and can be used for general products, special events, and limited tickets. Using a countdown timer can increase your store's conversion rate because customers might feel the urge of buying something that will probably run out soon.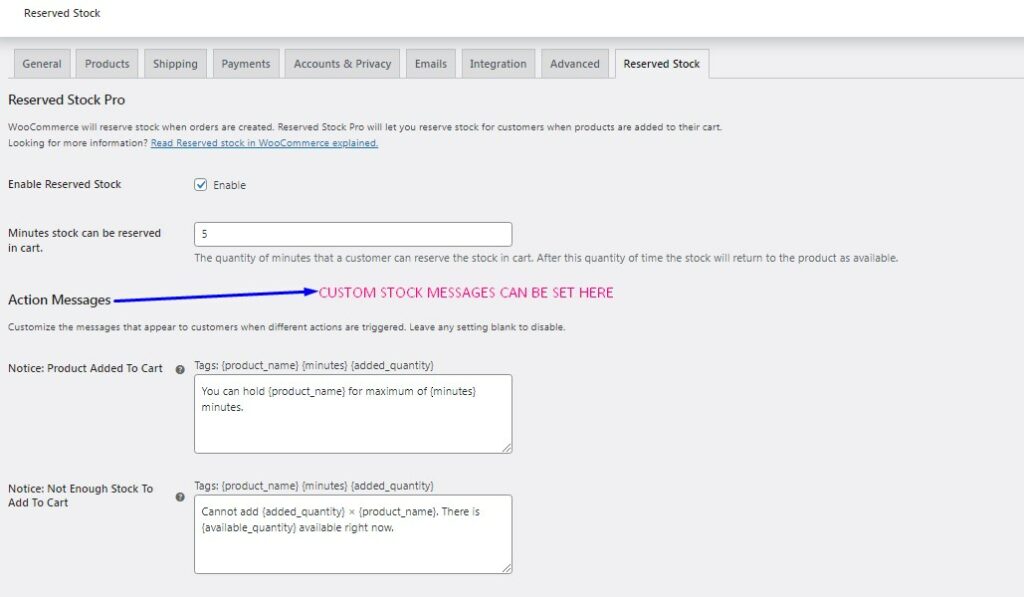 Another useful plugin that you can use is Reserved Stock Pro. This plugin is an excellent option for stores with limited stocks and continuously high demand. Reserved Stock Pro aims to improve customers' shopping experience by adding several functions like reserving products in cart, showing how many products are in stock, and having back-in-stock notifications. Plus, the idea of reserving stock in cart can optimize checkout since customers usually don't want to miss out on their favorite products.
Conclusion
It takes discipline and planning to fully optimize the checkout experience of your store. But once you've committed to the process and accomplished it, your store will improve in terms of sales and customer satisfaction. Just trust the process and you will see the results over time.