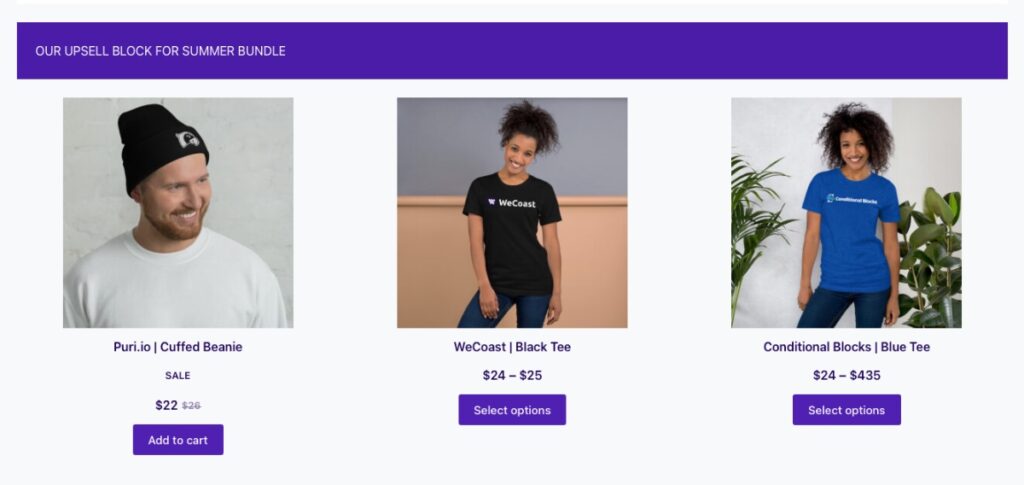 Building an eCommerce store is now easier with the help of WooCommerce Blocks. WooCommerce Blocks is a plugin that allows users to build their online stores through different customizable blocks.
With the help of WooCommerce Blocks' ready-made content blocks, you can now build your online store easily. Some of the available blocks are featured products, featured categories, best-selling products, top-rated products, and even checkout blocks.
Why You Should Use WooCommerce Blocks?
WooCommerce Blocks will create a positive user experience for customers who are browsing your store. Instead of scratching their heads regarding the products they need, visitors can just browse easily with the help of customizable WooCommerce store blocks. In due time, positive user experience will translate to better sales and repeat business.
Using WooCommerce Blocks is also easy. You don't have to use complicated codes in order to activate the store block that you want. Just open the block library, go to the WooCommerce section, and pick any store block. Customizing and positioning the blocks will also take less than a minute, depending on your preferences.
An Overview of Available Blocks in WooCommerce Blocks
Every available block of WooCommerce Blocks serves an important purpose. Some blocks will highlight your store's best-selling products, while others will show popular products reviewed by customers. Adjusting your store content based on these blocks will help build exposure for your products in the long run.
Here are the available blocks that can be used for WooCommerce Blocks:
Featured Product Blocks – For Showcasing New or Special Products
The purpose of the Featured Product Block is to display any exclusive or special product. You can customize the appearance and text description of the product in the block. Plus, you also have the option to add a CTA button within the block.
Best-Selling Product Blocks – For Showing Your Store's Top Sellers
The Best-Selling Product Block is a simple grid block that can be filtered according to different categories. This block allows customers to see multiple best-selling products any time.
Top Rated Product Blocks – For Showing Customers' Favorite Products
If you want to display your store's top-rated products, you can use the Top Rated Product Block. This block will display the most popular products in your store, especially the customers' favorites. The Top Rated Product Block can be filtered based on store categories.
Newest Product Blocks – For Showcasing New Products
The Newest Product Block is designed to display your store's newest products. It's advisable to use the best images of your store's new products in this block. Just like other WooCommerce blocks, the Newest Product Block can be filtered based on category.
On Sale Product Blocks – For Displaying On-Sale Products
The On-Sale Product Block shows a grid of your store products that are currently on sale. This block is great for week-long sale promotions or events.
Products by Tag – For Displaying Products With Specific Tags
The Products by Tag Block displays a grid of popular products based on classification tags. This block will further inform your customers about the types of products available in your store.
Products by Category – For Showing Products According to Categories
If you want to display your store products based on specific categories, you can apply the Products by Category Block. This block is similar to the By Tag block but it covers bigger categories or bigger product selections.
Products by Attribute – For Showing Products Based on Specific Attributes
The Products by Attribute Block displays products based on determined attributes. The attributes are related to the characteristics and parameters of your products.
Product Categories List – For Displaying Product Categories
The Product Categories List Block is different from Products by Category in the way that it displays the products in a list-style view. This list-style block is helpful for customers who are looking for products that exactly match their preferences.
Reviews by Product – For Sorting Product Reviews
The Reviews by Product Block will show all of the current reviews of your products. This block is useful for building long-term trust and transparency.
Reviews by Category – For Displaying Reviews Based on Categories
The Reviews by Category Block shows reviews based on specific categories. In this way, customers can rely on the categorized reviews before making any purchase.
Product Price Filter – For Displaying A List of Product Filters
The Product Price Filter Block is a handy option for showing the product filters in your store. Customers can use the block's price slider to see products matching their budgets.
Product Search – For Displaying A Helpful Product Search Box
The Product Search Block is a simple search bar that allows customers to look for the products they want. It's very important to have a search bar block in your store!
Active Product Filter – For Showing A List of Active Product Filters
The Active Product Filter Block displays a list of product filters in your store. This block is highly similar to By Category and By Attributes blocks but it shows a detailed view of all filters.
All Reviews – For Displaying All Reviews
The All Reviews Block will display all of the reviews in your store. All of the pages and blog posts in your store are covered by the All Reviews Block.
All Products – For Displaying All Products
The All Products Block will display all of the products in your store. The block appears as a grid with a flexible sorting option.
How to Install and Use WooCommerce Blocks?

1. Go to the WordPress plugin repository and download the WooCommerce Blocks plugin.

2. Install and activate the WooCommerce Blocks plugin.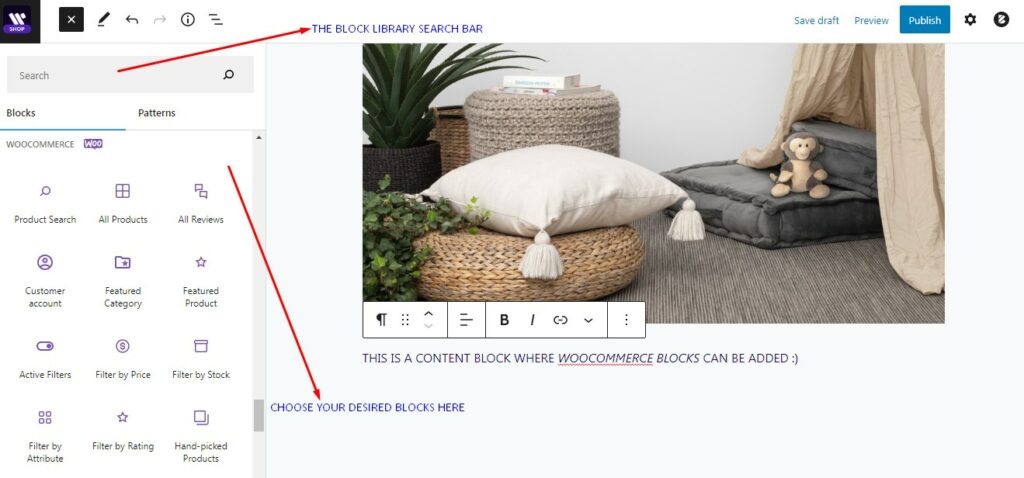 3. Go to a WordPress post or page and add a content block. From the block library, you can see the new blocks offered by WooCommerce Blocks.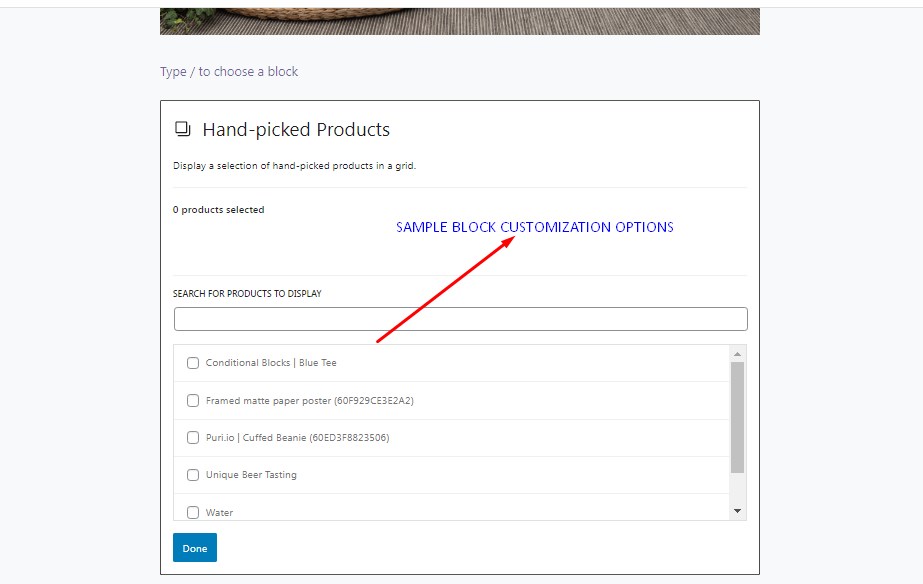 4. Choose any of the WooCommerce blocks and add it to your post or page. Customize the new block according to your preferences.
Note: Some blocks of WooCommerce Blocks aren't fully tested yet. However, if a chosen block is already included in the WooCommerce plugin, then it is ready to be used for production stores. Some of the currently tested and mostly used blocks are Product Search, All Reviews, Featured Products, Top Rated Products, Products by Category, and All Products.
Improving Your Store with Special WooCommerce Conditions
Do you want to direct your sales to a specific audience? If you answered YES, then one plugin that can help you is Conditional Blocks. Basically, Conditional Blocks is a plugin that can restrict multiple content blocks using powerful conditions.
Let's say you want to sell an exclusive product to a small group of buyers. You can just put the product information in a content block and only make it visible to your current target audience. Conditional Blocks will help you restrict a content block based on specific parameters or rules. Once the block is restricted, it will only be shown to the target audience, thus increasing the exposure for your preferred products.
Conditional Blocks has a useful selection of WooCommerce conditions. Some of the examples are WooCommerce Cart Product condition (visibility based on cart products) and WooCommerce Geolocation (visibility based on customers' physical location).
Lastly, one remarkable advantage of Conditional Blocks is totally flexible. It's possible to combine multiple Conditional Blocks conditions to achieve a tailor-made solution for your store.
Conclusion
The blocks offered by WooCommerce Blocks are the most straightforward options that can be embedded to your store post or page. There are lots of store blocks to choose from, and they are all customizable from scratch. More importantly, the WooCommerce store blocks can improve the buying and browsing experience of all users.
Are you ready to use WooCommerce Blocks? Don't forget to use the plugin along with Puri's premium WooCommerce store plugins. These plugins can supercharge your store and bring them from zero to fabulous in no time!