We all know that trust is super important when it comes to sales conversion. However, studies have found that trust is a really complex thing to build and involves all aspects of your business, including brand, products, communication quality, and perceived value for money. We've included some tips on making sure your online store is trustworthy to your customers.
Transparency: Be easy to understand
Since your only interaction with customers is through a screen, you need to make sure your process is very clear to understand. Don't make customers jump through hoops or have to search too hard to find information.
Think about the things you immediately want to know when you're looking to buy something:
Clear pricing – nobody wants to have to contact someone to find out a price when it could simply be listed on the page.
Clear refund policy – people feel more comfortable if they know exactly how to get a refund and under what circumstances they can ask for one.
Have a money back guarantee
Having a money back guarantee shows customers that you value them and their needs. It also shows that you believe in your product and its quality. Sure, there'll be the occasional person that takes advantage of this, but it's worth a lot more to with the trust of the other 99% of your customers because it lowers their perceived risk when purchasing your products. In other words, it makes your business seem like a safe place to buy from.
Get reviews
Reviews are extremely important. A lot of customers trust them as much as they trust a recommendation from their friend. Here's some ways to get reviews:
Give out samples of your product in exchange for a review. You can also use this as a way to test and improve your product.
Ask for a review from customers after solving a problem for them.
SSL Certificate
You will need to setup a SSL (Secure Socket Layer) certificate, otherwise you'll lose customers from the get go. Basically, the SSL certificate is responsible for encrypting the data between the customer's web browser and your store (server). This means that sensitive data like credit card and personal information is protected.
Web browsers like Google Chrome and Firefox are now enforcing the idea of a secure internet by displaying a big scary warning to anyone that tries to access a non-secure website.
Your search engine rankings will also be punished if you do not have a valid SSL.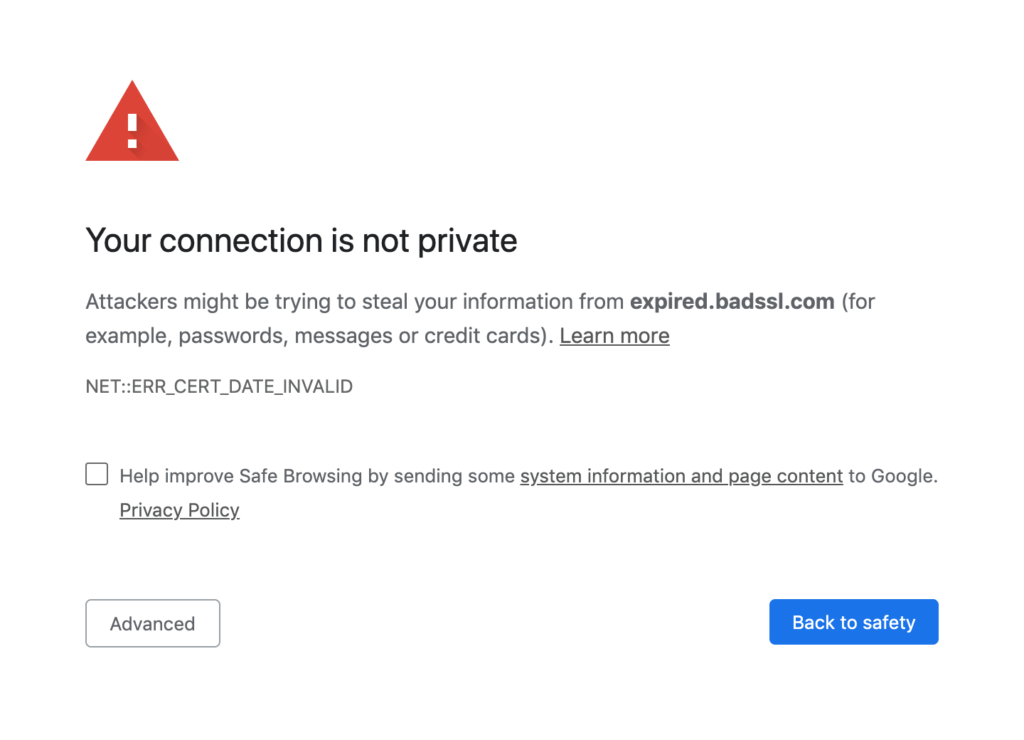 Luckily it's become a lot easier and inexpensive to get a SSL certificate on your website. You'll find that most hosting companies will help you set one up. There's also the free SSL certificate by Let's Encrypt, which is sponsored by well-known companies that aim to make the internet a secure and safer place.
Keep your word: Don't overpromise
Nothing decreases trust more than businesses going back on their word. It's better that you never promise to do something than under deliver. If anything, you should aim to over deliver.
When communicating with customers, only say you can do something if you definitely know it's possible. If we aren't sure, we often ask them to give us a couple of days to look into it because you just never know with tech – something you initially thought would be a 3 hour job can end up taking 3 weeks!
So, by not making too many promises, you save yourself having to sink hours and days with no pay into something that was only meant to be a quick job.
Be accessible and be fast
Customers like to know that there's someone to talk to if they need help or just have any questions. The quicker you can respond to them, the more credible you appear. And when you're responding, make sure you're talking to them as you would talk to another person in real life, don't just use automated text. Here's some options to help you be more accessible:
Make sure you're monitoring your emails daily.
Phone number: this is something you could consider, but is not as necessary as a live chat or email option, so long as you reply quickly.
Contact page: And if possible, put contact details or links on each page of your site.
If you're not going to be able to respond to emails or live chat within minutes, set an automated message assuring customers you'll get back to them personally within 24 hours, and make sure you do!
We've also found that including our timezone has been helpful. Since we're located in Australia, a lot of our support comes in the middle of the night for us. Our customers have been very understanding of the time differences. We've tried to communicate this clearly on our site and in our automated livechat and email responses. And we always aim to respond to our customers within 24 hours.
Payment: Have a few options
While some people will prefer to use credit card, others prefer PayPal or Stripe. Having these options gives people a sense of security because they have buyer protection.
Be honest and genuinely care about your potential customers
Sometimes your product might not be the right thing for a potential customer, and that's okay. Don't try to sell something to someone if it's clear to you that it won't be the best fit for them. They'll trust you a whole lot more if you point them in the right direction, even if that's to your competitor. You can even ask them to leave you a review for your support, which will help your store too! After all, finding a solution for someone gives them a much better impression of your brand and is better than an upset customer. Who knows, they might even refer some of their friends to you instead!
Provide detailed information on your products
It's hard initially to know exactly what might appeal to potential customers when writing a product description. But as the questions start coming in, it'll give you an idea of what people are looking for. Make sure you add that sort of information to your product description so it makes it easier to understand for the next person.
Have an FAQ page and keep adding to it
Save yourself some time and write up FAQs whenever customers ask you questions. Chances are, if you have to answer one question, someone else will have the same question in the future. This is a great way to reduce support time. It also shows that you have some structure to your business. Through your FAQs, your customers know what to expect when doing business with you, which increases their trust.
Keep the advertising simple
People don't like to feel like they're being sold to. Keep your ads simple and to the point. The best ads are ads that don't feel like ads. So try to provide some value to the customer in your advertising – give them some helpful tips that they can actually use.