When it comes to WooCommerce inventory management, a lot of store owners are having a difficult time. Some of the common problems related to online inventory management are store slowdowns, stock inconsistency, and complex technical issues.
If you've encountered the problems mentioned above in your store, you should consider using a reliable inventory management plugin. Such a plugin will help you manage your store's products without the need for in-depth technical knowledge.
Today, we'll show you the real benefits of using an inventory plugin like our Stock Editor. More importantly, we'll also show how to set up the Stock Editor for your WooCommerce store.
How to Manage Your WooCommerce Inventory with Stock Editor
The Stock Editor plugin by Puri.io is a highly efficient tool that can help you save time by offering different features like flexible product filtering, bulk stock editing, and seamless code integration.
Instead of editing product variables manually, why not use Stock Editor to bulk-edit the variables in just one go? Stock editing will only take a few minutes of your time, allowing you to focus on other important aspects of your business.
It's also easy to set up and use Puri's Stock Editor for WooCommerce.

First, you need to get the Stock Editor plugin from the Puri.io official page.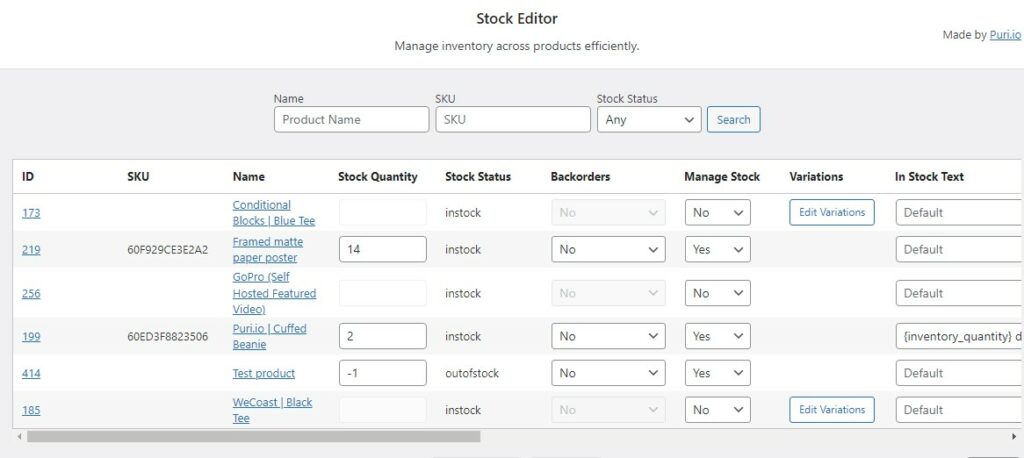 Once the plugin has been installed and integrated with your WooCommerce store, it will show the configurable options product IDs, SKUs, stock statuses, and different types of stock status texts.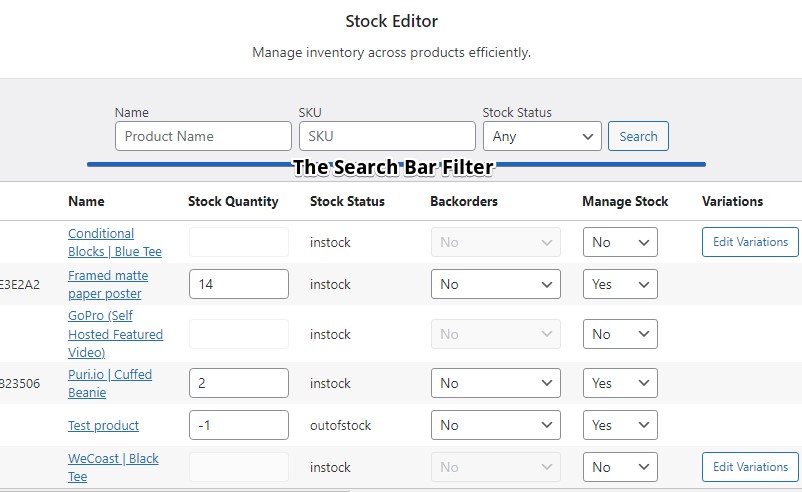 The Stock Editor search bar is a handy option that lets you search any product based on specific criteria like product name, SKU, and stock status. By using the search bar, you don't have to comb through your entire site for a product. Just type the product name, click the search button, and the plugin will display the product shortly.
It's also possible to use the search bar for bulk-searches. Click the stock status dropdown button and select any status that you want. The plugin will then display the products tagged with the selected status.

Additionally, stock status can be customized further with the integration of Puri's Stock Status for WooCommerce plugin. This plugin allows users to set stock messages for every product, and it also allows stock messages to be displayed on various shop category pages.
Do you want to edit the texts of your products without going to the exact page? Simply go to the corresponding stock status text fields.
Here are the editable stock text fields:
In Stock Text – The text that corresponds to products currently in stock
Low Stock Text – The text that corresponds to low-stock products
Out of Stock Text – The text that corresponds to out-of-stock products
On Backorder Text – The text related to products on backorder
Utilizing the stock text fields properly will allow you to set messages of varying urgency for specific products. For example, you can announce that a product has limited stocks, possibly raising demand for it. On the other hand, if a product ran out of stock, you can just set an 'out-of-stock' message.

The Stock Editor plugin will also let you edit product variations in your store efficiently. You can set stock quantities, backorder notifications, and parent product designation.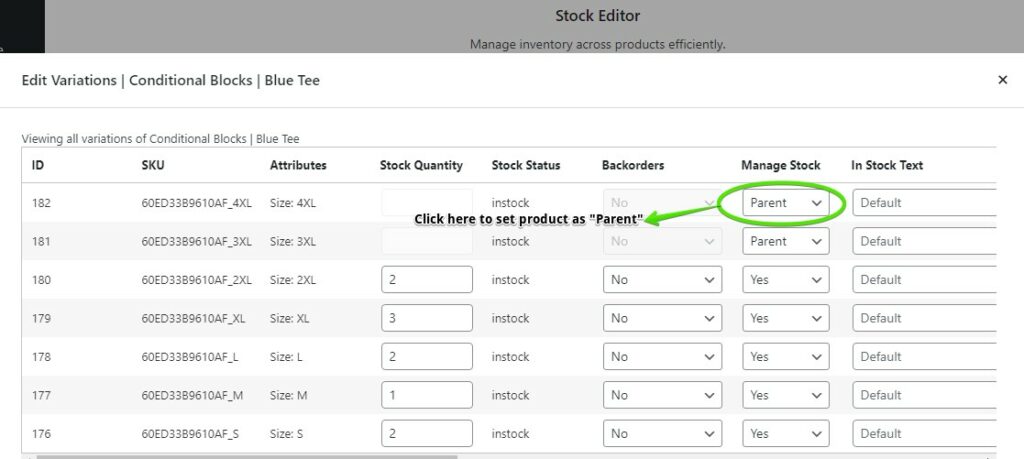 Now, let's discuss Stock Editor's parent product designation. Basically, if a product is set as a parent stock it will be used up instead of the variations.
Example: Your product has a stock of 5 units with multiple variations set as A, B, and C. If any of the variations are sold and they're set as parents, they will trigger the main product stock to go down.
On the flipside, if a product is not set as parent (Manage Stock: Yes), it might have different variations. These variations will go down once they are sold, instead of the parent stock.
Example: Your product has a stock of 5 units with multiple variations A, B, and C not set to parent. These variations will show their current stock counts, and the parent product won't have any stock at all.
Best Practices for Managing Your WooCommerce Inventory
Using an inventory management plugin will improve the general efficiency of your online store. However, you won't reach far without applying the best practices for inventory management.
Here are some best practices that you shouldn't ignore:
Keep An Eagle Eye on Your Stocks

You probably heard the old advice pertaining to the constant observance of stocks. Well, it's always a useful piece of advice! However, you need to become better than other store owners by totally keeping an eagle eye on your product stocks. The first thing that you can do is activate WooCommerce notifications whenever product stocks are low.
Next, you can take the extra mile by keeping a separate file that reflects the stock statuses of your products. Make sure that this file is accessible anytime, especially if you're always moving around.
Use WooCommerce Data to Your Advantage
E-Commerce, while lucrative, can somehow be unforgiving. If you don't have enough data, you might end up adding too many products in your store, leading to financial wastage. Conversely, you might lose repeat business if your store products are always out-of-stock.
WooCommerce's built-in inventory management features allow in-depth product forecasting. You can use the generated WooCommerce data to help you determine which products are hot and which ones are not. Plus, you can top it off with a useful WooCommerce plugin known as Sales Analysis. This plugin will deliver complex insights meant for deeper product analysis and market study.
Understand the WooCommerce Product Types
WooCommerce's product settings aren't built the same. Some products are great for small niches, while others are okay for bigger, more popular niches. Understanding product types will help you set the ordering and selling priorities of your store.
Simple products are basic products that have no unique distinctions or other options. A plain white sheet is a common example of a simple product.
Other examples of simple products:
Computer mouse
Cheese grater
A pillow
Car mirror
Variable products are similar to simple products except that they are unique. They even have separate SKUs (stock keeping units) and groupings. A colored shirt with a glossy design is an example of a variable product.
Other examples of variable products:
A red t-shirt
A blue t-shirt
An iPhone with multiple storage options (128GB or 256GB)
A teal Aquaflask with a unique logo
External products are also known as affiliate products. Basically, these are products that you don't own. Once you've sold an affiliate product, you'd receive a commission for the sale.
Grouped products are like bundled products that can be included in promos or large sale events. If your store has multiple grouped products, you will definitely benefit from using Stock Editor while editing stocks in bulk.
Examples of grouped products:
An iPhone and a matching iPhone case
A miniature and an acrylic paint set
A pair of headphones and a headphone foam cover set
Don't Use Too Many Plugins
While you can find tons of inventory management plugins for your store, you shouldn't go overboard with them. You must consider the state of your store before choosing a plugin. Is your store rapidly growing per month? Do you have different grouped products that must be managed effectively? What is your budget for a reliable plugin? Answering these questions will help you make the right choice of plugin.
One of the problems of having too many plugins is incompatibility. If some plugins are incompatible, they can slow down your store or even damage it outright. Be sure to read plugin reviews before purchasing any plugin or tool.
At best, Stock Editor is a simple plugin that won't have conflicts with other eCommerce tools. Stock Editor will also help your store grow, regardless of its current stage.
Top 3 Helpful WooCommerce Inventory Management Tools

Katana is an all-in-one inventory management solution for small and big stores alike. The plugin is excellent for displaying stock data in real-time, and it can also track raw materials in a logistical chain. If you have a big thriving store, you can never go wrong with Katana.

If you have a physical store along with your online store, you should try the WooPOS plugin. WooPOS is a point-of-sale plugin specializing in synching products between multiple stores. Just imagine the time that you can save with this POS plugin, especially if your stores have consistent logistical flows.

Veeqo for WooCommerce is a useful plugin that offers direct integrations with other marketplaces like Amazon and eBay. If you're running multiple eCommerce stores, you won't be disappointed with Veeqo. The plugin offers tons of useful features like POS, stock editing, invoice issuance and customization, inventory history, data tracking, and price control.
Conclusion
Managing WooCommerce inventory shouldn't be too difficult using the right plugin or tool. But keep in mind that one plugin is not enough to make your store as profitable as it can be. You still need to apply the best strategies as a responsible store owner.
And don't forget to check out these inventory management tools:
So, are you ready to boost the efficiency of your store and save precious time? Try out Stock Editor today!