Your license will automatically renew if you have an active payment subscription via PayPal or Credit Card. You can check your active subscriptions from your account.
If you have cancelled your subscription or your license has expired, you can manually renew them.
How to Renew a License Manually
Log into your account and navigate to your licenses. Once there you can click extend on the license you wish to renew.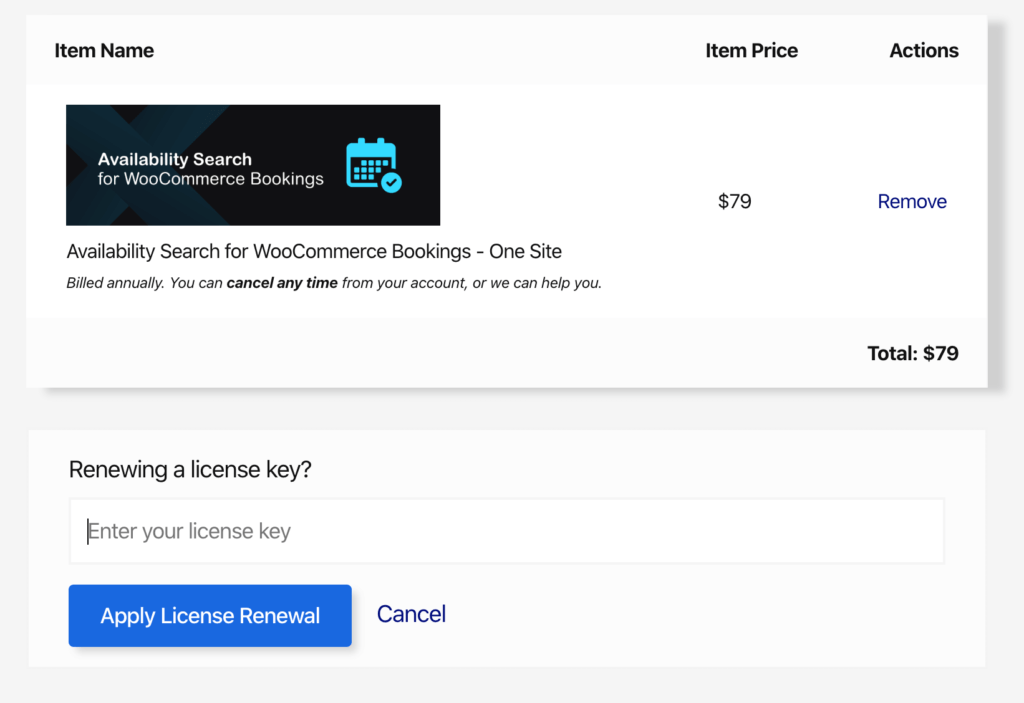 Alternatively, you can just add the plugin and the license you want to renew to the checkout.
Can I renew my license early?
Yes, you can renew your license at anytime through your account or by pasting your license key into the checkout renew license box.
E.g. You want to renew/extend a license that you purchased 6 months ago. Your new renewal date will be in 1 year and 6 months.
Renew licenses with coupons
If you find yourself in the lucky position with a coupon and wanting to renew for the discounted price, then you totally can! You can only apply one coupon at a time.
Follow the How to Renew a License instructions at the top of the page and make sure you input the discount code in the checkout.
You'll see a message similar to this on the checkout:
Your existing subscription to Availability Search for WooCommerce Bookings will be cancelled and replaced with a new subscription that automatically renews Yearly for $79.00.
This is normal, don't worry. You'll only be charged the discounted price for 1 year and your license will be extended by 1 year. Your previous scheduled payment (subscription) will be cancelled and a new subscription will be created with the new extended renewal date.