Your Puri.io license will automatically renew if you have an active payment subscription via PayPal or Credit Card. You can check your active subscriptions from your account.
If you have cancelled your subscription or your license has expired, you can manually renew them.
How to renew an expired license
Option 1: From your account (Recommended)
Log into your account and navigate to your "Licenses", then click "Renew' on the license you wish to renew. You'll then complete the checkout and your license will be renewed for another year.
Option 2: From the checkout
You can also renew a license directly from the checkout. However, we recommend that you do it from your account. Renewing at the checkout is possible by adding the plugin you wish to renew and manually entering your license into the "Renewing a license key?" box. Your license will be renewed once you complete the checkout.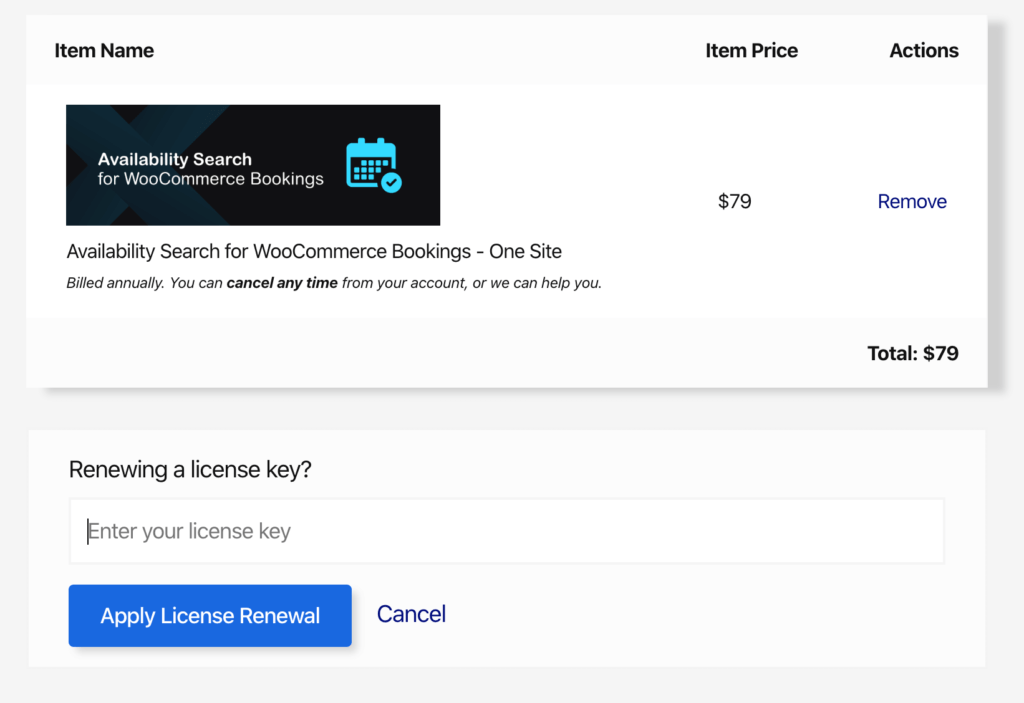 How to extend a active license
Yes, you can extend your license if it hasn't expired yet.
Login to your Puri.io account
Navigate to "Licenses" and select the license you wish to extend by clicking "extend".
Complete the checkout and your license will be extended for another year!
What is the new period for license renewals/extensions?
Early renewal (Extend) example: If you purchased in April 2022, and renewed early in January 2023 your license would expire in April 2024, giving you two full years.
Late renewal example: If your purchased license has expired and you renew, then the new expiry date will be 1 year from the day you renew.
Can I use coupons to renew or extend my license?
We care about our existing customers. You deserve to take full advantage of any Puri.io available sales or coupons!
If you find yourself in the lucky position with a Puri.io coupon you can definitely renew or extend your licenses.
Follow the How to Renew/Extend a License instructions at the top of the page
Apply the coupon in the Checkout – Click the button "Have a discount code?", then enter the code.
Complete the checkout. Congratulations, you've succesfully renewed or extended your license at a discounted price!
How coupons affect existing subscriptions
For technical reasons, a new subscription will be created with the new expiry date.
The discounted price will apply to the initial payment at the checkout.
Future subscription payments will scheduled at the full price.
You'll see a message similar on the checkout to the one below. The message will let you know the future subscription price. Subscriptions can be cancelled anytime from your account.
Your existing subscription to [Plugin Name] will be cancelled and replaced with a new subscription that automatically renews Yearly for $[price].